An Introduction to Vegan Gloves
Thursday, 21 March 2019 | Admin
Being an ethical buyer in 2019 can be difficult. It's a task that can take time – trying to source a product's origin and original manufacturers, and finding out what's gone into the product during its making. We believe that it is our responsibility to do that time-consuming job on your behalf.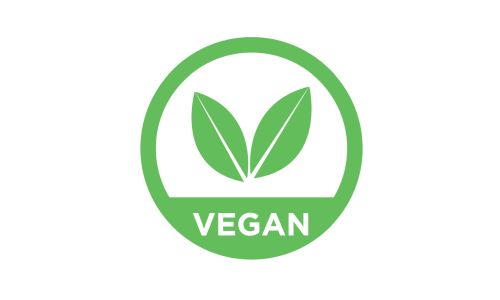 We sell a wide range of vegan work gloves
Plenty of gloves are made from non-vegan materials such as wool or leather but that isn't to say that the vegan gloves marketplace isn't there. It is and it's starting to grow, which is why we've created this little article giving you an Introduction to Vegan Gloves. For your latest on vegan driving gloves, vegan biking gloves, vegan gardening gloves, vegan winter gloves and more, please read on.
What Are Vegan Work Gloves?
Vegan work gloves are gloves that, during their manufacture, completely avoid the use of animals and animal by-products. This includes animal testing and animal-related substances going into certain materials in the gloves. Often you will see synthetic leather gloves advertised as synthetic, however, that's not to say that real leather isn't fused into the gloves' interior lining or that wool isn't used to warm your hands.
Finding out which gloves are designed from start to finish without the exploitation of animals can take a little bit of research. Many gloves are advertised as vegan friendly polyester, acrylic or nylon, but finding out every little material in the gloves means speaking to glove makers and squinting to read the small print. Well, we've taken out our magnifying glasses, spoke to manufacturers and asked for some expert opinion, and created five portals on our website that lead you directly to the Vegan Work Gloves of your choice:
Vegan Driving Gloves
Vegan Driving Gloves are becoming popular, especially as the majority of traditional driving gloves are designed using leather. Our vegan leather gloves include the Uvex Unilite Thermo Cold-Resistant Safety Gloves, and the UCi Nitratherm Fully Coated Thermal Grip Gloves. Both don't look much like leather, but their tough exterior and trendy, sleek black design is particularly handy if you're a truck or lorry driver who drives over extended distances.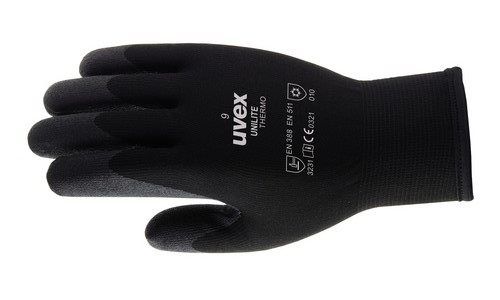 Uvex Unilite Thermo Cold-Resistant Safety Gloves
Vegan Gardening Gloves
Leather is often used in gardening gloves because it can withstand sharp thorns and is quite durable. With that in mind, our collection of Vegan Gardening Gloves are designed to withstand thorns and also retain their strength when faced with heavy duty, all day strenuous use outside. A favourite pair of ours are the Ejendals Tegera 90088 Gardening Gloves, featuring 55% real polyurethane, 44% real cotton and 1% natural latex.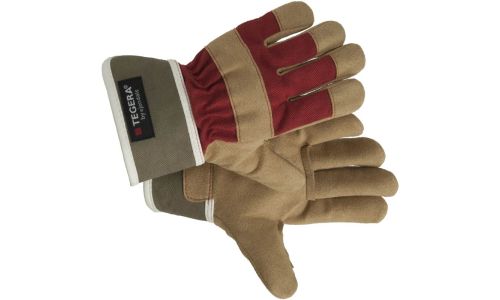 Ejendals Tegera 90088 Gardening Gloves
A Word of Warning
Fake leather alternatives found in gardening gloves such as synthetic leather and polyurethane will not contain any animal substances. However, that's not to say that they're entirely vegan. We recommend that you always double check the exact materials that are used in a gardening glove's making, as non-vegan substances are often used elsewhere in the gloves.
Vegan Work Gloves
This is the category where you'll find our Vegan Work Gloves, which include vegan gloves for assembly, building, construction, engineering, handling, manufacturing, maintenance and more. We've selected two gloves here to show you the wide variety that we have in stock. The first pair is the TraffiGlove TG5070 Thermic Cut level 5 Gloves, which are designed to offer exceptional cut resistance, flexibility and durability, making them a highly versatile pair of gloves.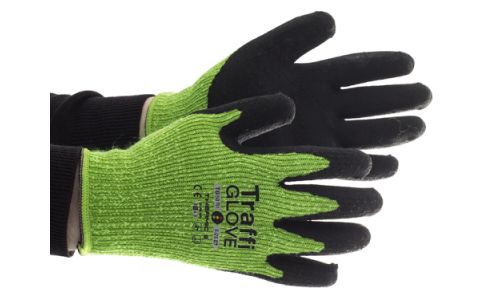 TraffiGlove TG5070 Thermic Cut Level 5 Safety Gloves
Vegan Winter Gloves
Lastly, we have Vegan Winter Gloves, which are harder to come by because thermal gloves usually contain something like wool on the inside and leather on the outside. The Ejendals Tegera 517 Insulated Waterproof Precision Work Gloves are ideal for winter work, because they use a synthetic fleece lining and synthetic leather to keep your hands warm in the cold. Their tough design is perfect for all kinds of winter work, including work in mechanical industries such as building, engineering and maintenance.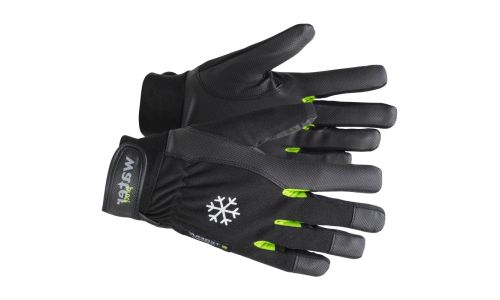 Ejendals Tegera 517 Insulated Waterproof Precision Work Gloves
Don't Panic When You Buy Vegan
Buying vegan doesn't have to be difficult, which is why we've set out what gloves are vegan and what are not in a simple easy to read way. Remember just because a glove uses synthetic materials doesn't mean that animal substances weren't used during the making of the gloves or in the gloves lining. For more information, check out our Vegan Gloves category, or call us on 020 7501 1104.
Have any questions about our vegan gloves, or anything to add? Tell us in the comments below, or find us on Facebook and Twitter!