Best EN 511 Cold Resistant Gloves
Tuesday, 11 August 2015 | Admin
If your hands are heading for a chill then you'll be needing a pair of gloves, so get the best gloves for cold protection - not that we're ones to brag, but the European Safety Council agrees, because all our best cold resistant gloves come with EN 511 accreditation. We've got gloves that can take on the coldest conditions science can throw at them, or just the bite of a British winter, so here's our run-down of insulated gloves to keep your hands heated when the temperature drops!
Safety Gloves' Top 5 Best Cold Resistant Gloves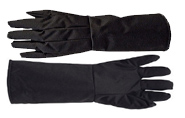 Polyco Freezemaster Cryo Insulated Gauntlets
Don't just guard against the freeze, master it with these tough gauntlets. The soft and comforting inner fleece liner might fool you into thinking they're soft, but these some hardy gloves. Coming from one of our – and the UK's – favourite PPE brands, Polyco, you know you're buying into quality when you get them on your mitts. Able to tackle the conditions of cryogenics, pharmaceutical labs, storage freezers, cold room duties and any of the cut, abrasion or cold hazards they pose, these gloves are seriously hot stuff for seriously cold climates.
Shop Now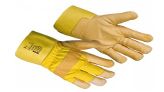 Supertouch Glacier Insulated Rigger
>Trusty riggers, is there anything they can't do? Apparently not, because these Supertouch, super tough gloves can even take on the bitter cold, as well as the mechanical risks of EN 388. Don't think that PPE can't provide comfort as well as protection, these gloves will keep your fingers as warm as they are safe. Made from heavy duty tan grain leather and soft inner cotton, these riggers will keep you from the chill and from cuts while you take on a hard day's work even on the coldest of days.
Shop Now

Polyco Freezemaster II Cool Handling Gloves
Be too cool to handle in these Polyco gloves! A premium leather safety glove to keep your fingers from freezing, a fleece liner and waterproof membrane keeps hands from taking on the cold and wet to stay warm and dry. You can even personalise your range of protection with the option of an extra long cuff to let your wrists get in on this total thermal coverage. Protecting against cuts and abrasion while keeping your dexterity uncompromised thanks to a spandex backing, a reflective piping deign even makes sure your gloves are always in sight, as well as your safety.
Shop Now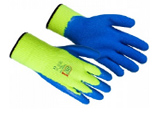 Supertouch Topaz Ice Plus
You can take things literally with these eye-catching gloves and get super touchy with all the ice you like, because with this protection you'll not have to worry about the cold. A thermal, brushed lining combines warmth and comfort, and a handy textured latex palm gives enhanced grip even in the iciest of conditions. Brightly coloured to keep your safety in sight, and bring a little cheer to the chill, a knitted wrist keeps these cut and cold resistant gloves in place so you can play it cool while keeping warm.
Shop Now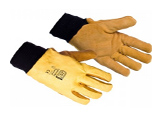 Supertouch Icelander Thermal Gloves
Heading to a land down under 0 degrees? Be the coolest man, or woman, at work with Supertouch's thermal gloves. Fully fleece lined and totally thermal, these split leather gloves are the ideal PPE choice for cold works. A ribbed knit wrist and grain leather back means these gloves give durable, secure protection from the chill and come in one-size-fits-all so every hand can benefit from these cold-busting gloves.
Shop Now
Out of the lab and into the elements
Of course we're very proud to be able to offer EN 511 gloves that deliver such a high level of protection, but we also know not everyone who is taking on the cold will be doing so in a lab, so we stock great thermal gloves that are more suited to being out there in the elements and taking mother nature head on. Try our Dirty Rigger Sub Zero XC Rigger Gloves for slick design, a comfy Thinsulate lining and hexa-grip palm for perfect dexterity, able to take on serious work tasks, they're also stylish enough to slip into your every day winter wardrobe. If it's water your fearful of then why not form a perfect seal around your hands with our Sealskinz Gloves? Don't worry, no seals have been harmed and neither will you hands be once you get this stretch material PPE on for complete water protection.
Visit Safety Gloves for our full range of EN 511 Cold Resistant Gloves or see our range of Cold Resistant Gloves.