Black Mamba: The Toughest Gloves Around
Thursday, 4 July 2019 | Admin
It can take a lot for a brand to succeed in America, with tougher, more rigorous standards and more competition making the gloves market a crowded and hectic place. Any gloves that conquer America are going to cause ripples here too, which is why we're always on the lookout for the finest brands that we can bring in from across the pond.
Nothing fits this example better than Black Mamba Gloves. A small range of disposable and reusable gloves, Black Mamba came to dominate in the US, before being released here and quickly becoming an industry favourite. This article explains why Black Mamba took both countries by storm, and explains in further detail why no car garage, industrial plant or engineering facility would be complete without their own box of Black Mamba gloves.
Who Are Black Mamba?
Black Mamba have been around for a while, and although they initially focused on their disposable gloves, have built a range that includes reusable mechanics gloves, impact protection gloves and cut resistant gloves. Their focus is industrial jobs, and all of their gloves offer impressive resistance to different risks that make them ideal for manufacturing, assembling, tool handling and more.
Using Black Mamba to Save You Money
Hand injuries can be a nuisance to an employee and an employer, with the end result being time spent off work, lost money and potentially court costs. It's easy to carry out small tasks in assembly and mechanics presuming that a small hand injury won't occur. This isn't always the case, as nearly all hand injuries are preventable by wearing the correct safety PPE.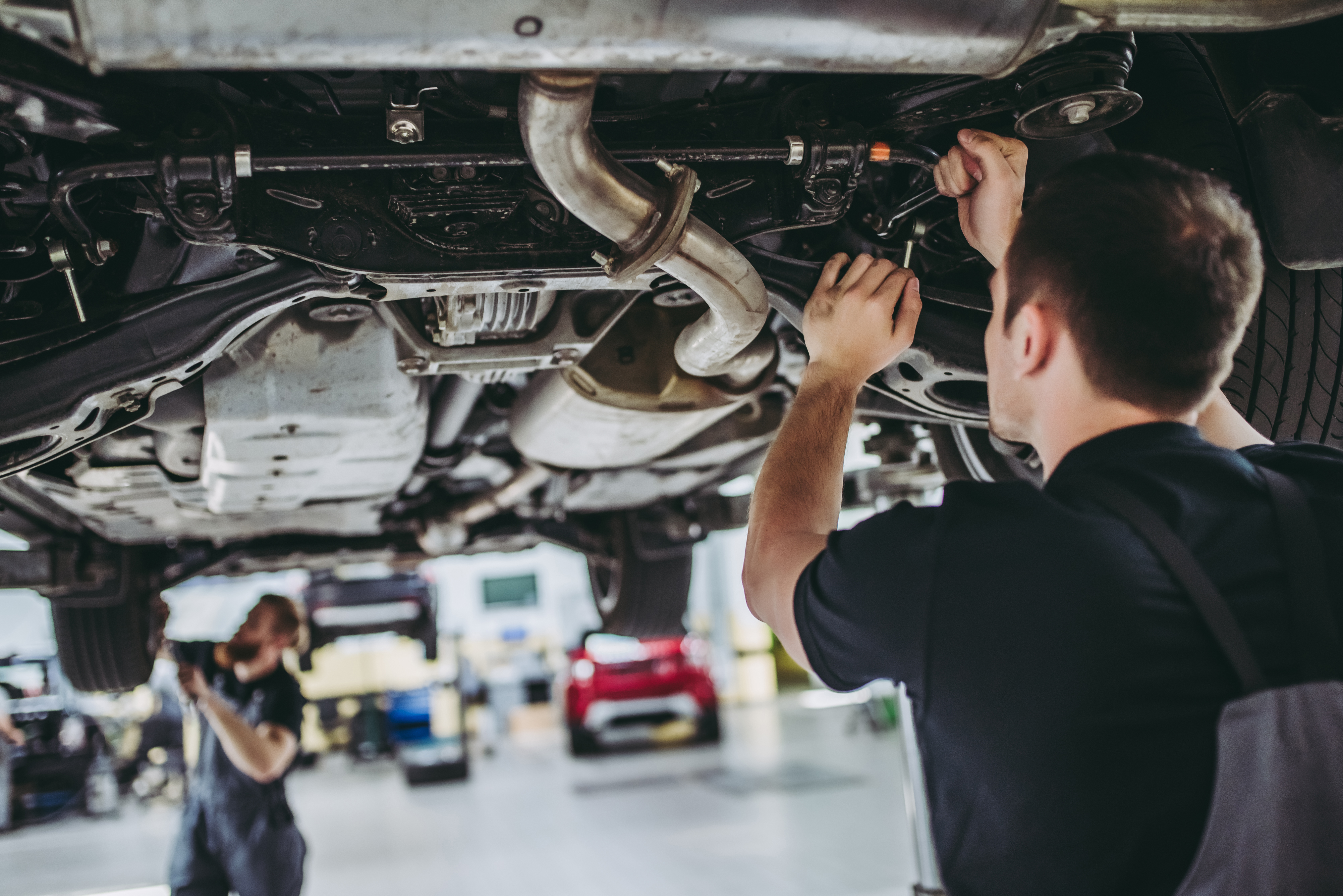 Not using any hand protection during mechanics can lead to an injury
Black Mamba's disposable gloves range all offer such a high level of strength that you can prevent small knocks and scrapes to the hand. While this doesn't seem much, it can mean that you won't get a small mark that can get infected, while also increasing productivity as the worker will have higher wellbeing. It isn't just safety that the Black Mamba gloves provide, but time and money too.
What' is in the Black Mamba Collection?
Their flagship product, the Black Mamba Disposable Nitrile Gloves BX-BMG boast the title of the toughest disposable gloves on the market, offering a tensile strength that is three times that of a normal nitrile disposable gloves. While this is their flagship product, it doesn't mean that their other gloves fall behind.
Black Mamba BX-BMG: The Toughest Disposable Gloves on the Block
The Black Mamba BX-BMG Disposable Nitrile Gloves are some of the toughest disposable gloves that money can buy, helping to propel them to our best sellers list. They aren't tested to EN 388, but that doesn't mean that they don't offer more durability than plenty of EN tested gloves. A unique two-ply fushion strength and NITREX polymer enables you to wear the gloves for hours, and in some cases, even reuse the gloves.
Black Mamba BX-BMG Disposable Gloves are the disposable gloves that have everything including strength, grip and chemical resistance. Suitable for industrial tasks like mechanics, oil and gas, maintenance, engineering, assembly, fabrication, transportation, utilities and motor mechanics, these are the must have gloves for any industrial task. Key features include:
Two-Ply Fushion Strength: Two-Ply Fusion Strength uses a NITREX polymer to offer a level of strength that means the gloves won't break for hours
Durability: Their tear resistant design is so durable that these gloves are among the most durable disposable gloves available
Protection: These gloves are so tough that they can actually protect your hands against minor knocks and scrapes
Chemical Resistance: A full nitrile coating offers three times the protection of latex and vinyl
Grip Rite Finish: A textured grip-rite finish offers outstanding grip even in slippery conditions
Oil Resistance: Oil-resistance allows you to handle items without your hands getting oily
Versatility: Their versatile design enables the gloves to handle tools, control machinery and grip items
Easy Donning: Their flexible design is so easy to don, that you won't lose productivity or risk safety changing gloves
Suitable For: Automotives; assembly; construction; engineering; industry; mechanics; maintenance; tyre fitters; chemical engineering; water treatment; utilities.
| | |
| --- | --- |
| The toughest disposable gloves that money can buy | |
What Else Is in Black Mamba's Range?
Black Mamba don't just offer the BX-BMG Gloves, and they have a larger collection that incorporates both reusable and disposable styles. We've selected three of their top selling gloves below for you to compare and contrast, but if that isn't enough, then check the gloves out themselves in our Black Mamba Gloves category.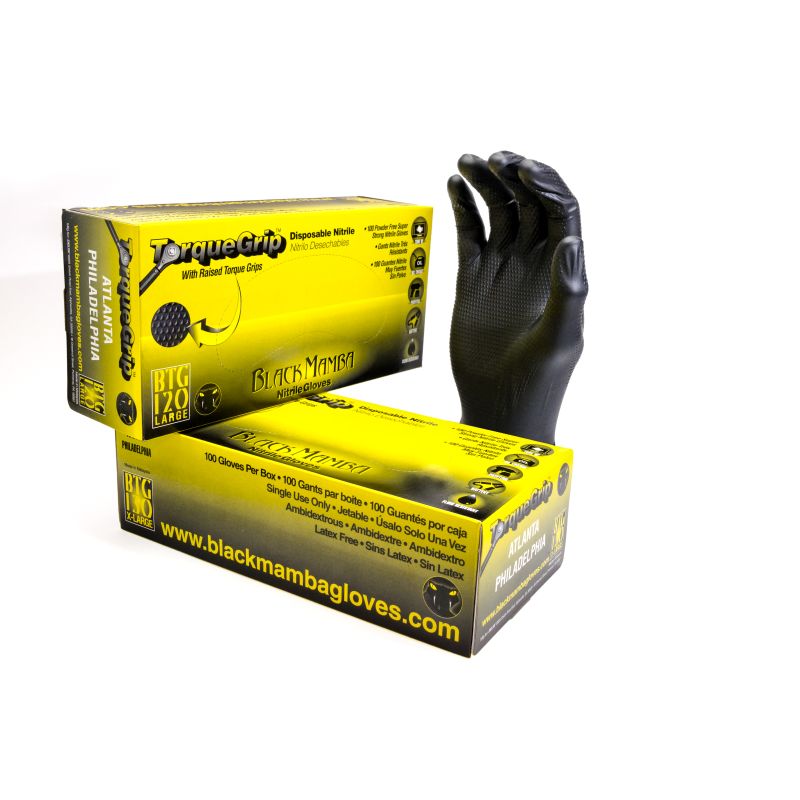 Black Mamba Disposable Nitrile Gloves With Torque Grip BX-BMGT
Disposable Gloves that use Grip Rite for excellent grip
Offers resistance to a wide range of different chemicals
Two-Ply Fushion strength for high durability
Far stronger than late and vinyl
Offers impressive sensitivity for handling tasks
Suitable for: Mechanics; engineering; assembly
Buy Your First Box Now!
We encourage you to buy your first Black Mamba gloves now, and we recommend a box of 100 BX-BMG Nitrile Black Mamba Gloves.
If you have any questions – or anything to else to add – tell us in the comments below, or find us on Facebook and Twitter!
Super strong disposable gloves for mechanical, chemical and automotive use
Offer three times the chemical resistance of latex and vinyl
Made to grip and protect with high sensitivity and dexterity
Price is per box of 100 gloves

| | | |
| --- | --- | --- |
| | | In stock now |

Price is per box of 100 gloves
Chemical Protection - 3 times the chemical resistance of latex or vinyl
Powder Free & textured with Grip Rite finish, made to grip not slip
One of the toughest disposables on the market; over 6.0 mils in thickness

| | | |
| --- | --- | --- |
| | | Currently unavailable. Please check back soon |

Price is per box of 100 gloves
Performs against chemicals which nitrile gloves may fail to combat
Ambidextrous & EZ-Glide donning system
One of the toughest disposables on the market; over 8.0 mils in thickness

| | | |
| --- | --- | --- |
| | | In stock now |