Comprehensive Protection with the Ejendals Range
Friday, 13 January 2017 | Admin
Ejendals has become a byword for quality and reliability in gloves manufacturing. Based in Sweden, they have been a market leader for a number of years in the Nordic region. It's only in recent years that they've expanded into new markets within Europe, including the UK, and so they are somewhat less well known. If you're new to the Ejendals range, the following guide should serve as a helpful introduction.
Company History
Ejendals has been producing work gloves for well over a half-century. They were founded in 1949 by Valfrid Ejendal in Leksand, Sweden. Their product line originally included work gloves that were manufactured locally for regional mills and industries.
Ejendals owns its own factory in Finland and maintains long-standing cooperations with selected factories across the world. Ejendals is still family-owned and is now run by Valfrid's grandson, Marcus Ejendal.
Gloves RangeS
Ejendals boasts a vast catalogue of gloves, with a plethora of specialisations and employing a number of proprietary technologies.
All Round Work/General Handling Gloves
Ejendals offers a large number of medium to heavy weight gloves designed for general handling tasks in industries such as construction, carpentry, tiling and metalwork. These can be further divided into leather and synthetic gloves. The leather gloves are composed of cowhide, goatskin, pigskin or oxhide – each having its own specific properties and advantages. The synthetic gloves employ the proprietary synthetic materials Microthan and Macrothan, as well as a few derivatives. Again, these materials have specific properties: Microthan is known for its superb grip, whilst Macrothan is comfortable and breathable – perfect for long shifts.
Precision Work/Fine Assembly Gloves
At the other end of the spectrum are gloves for fine handling tasks in settings such as the automotive industry, utilities or assembly line work. Manufactured to the highest standard, these precision work gloves offer full freedom of movement for the fingers whilst still providing high levels of protection. Most precision work gloves will have very good fingertip sensitivity which helps ensure easy handling and a responsive feel.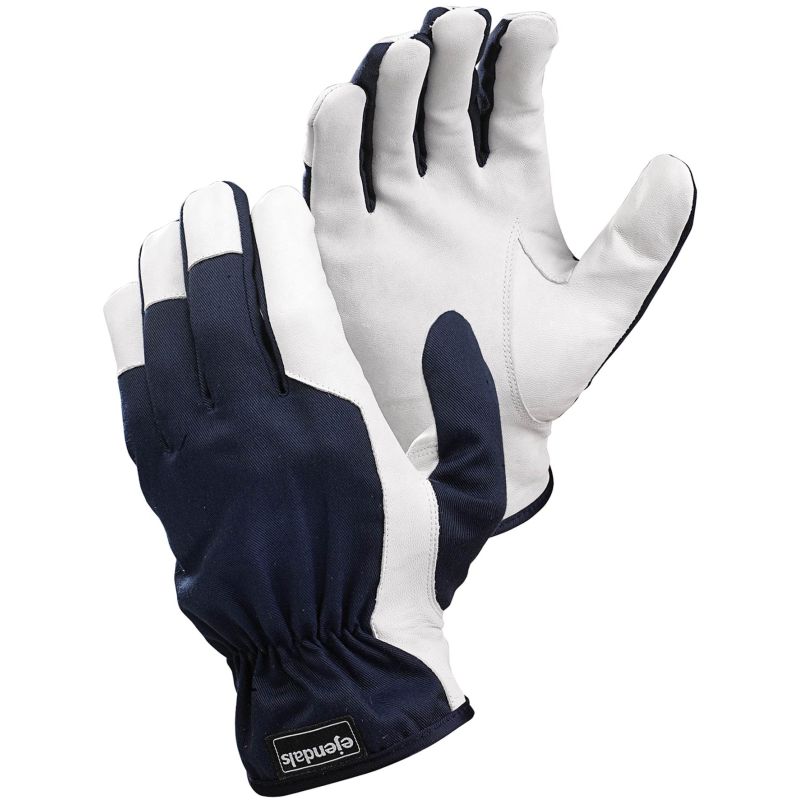 The Ejendals Tegera 119 Precision Work Gloves are composed of supple full grain goatskin – perfect for precision tasks in a vast range of industries, including pulp and paper, automotive and service/retail.
A classic Ejendals design with a reinforced index finger and fingertips, the 119 Gloves are a no-nonsense pair of gloves offering the high levels of quality and reliability that have come to be associated with the company.
Dipped/Oil Resistant Gloves
The process of dipping imbues gloves with water and/or oil resistant properties. This makes them suitable for use in wet environments and oily environments such as the fishing industry. Dipped gloves are also suitable for petrochemical applications such as within the oil, gas and mining industries amongst others. Some Ejendals oil-resistant gloves also feature special grip patterns to aid handling in slippery environments.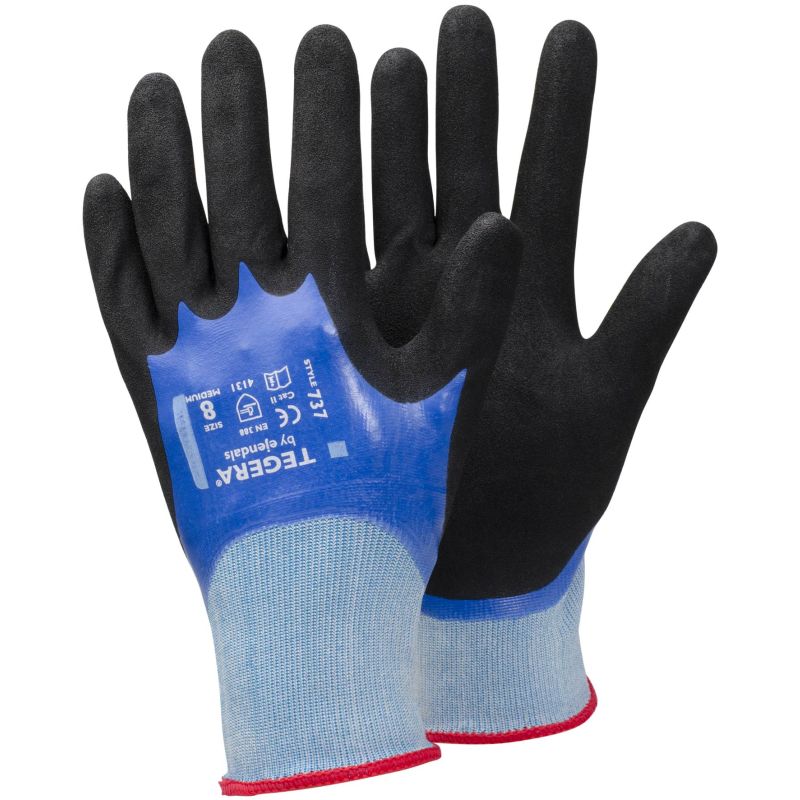 The Ejendals Tegera 737 Gloves feature a coating of nitrile which makes them highly resistant to abrasion as well as being water and oil repellent. They have seen applications in the fishing and petrochemical industries and are suitable for agricultural and mining work.
Featuring an anatomical design, the 737 Gloves have a soft feel and a sleek appearance. They are flexible, durable and comfortable to wear gloves which have excellent levels of grip.
Cut Resistant Gloves
One of the greatest focuses in research and development over recent years has been in the realm of cut-resistant gloves. Ejendals utilises some of the most advanced materials on the market, including Dyneema, Kevlar fibre and CRF (Cut Resistant Fibre) technology to produce gloves with Level 3, 4 and 5 cut resistance according to EN388 standards. With a pair of Ejendals cut-resistant gloves, you can have complete peace of mind in cut risk environments.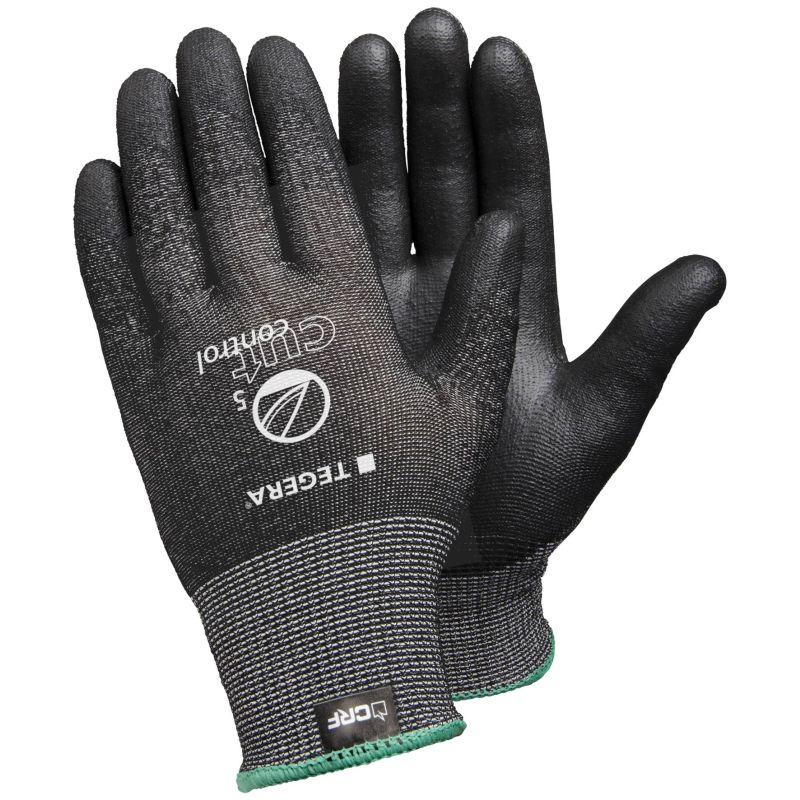 For the highest risk environments, you'll need Level 5 Cut Resistant gloves to protect you against unexpected cutting edges. The Ejendals Tegera 455 Level 5 Cut Resistant Fine Assembly Gloves feature Ejendals' CRF technology which gives the gloves exceptional dexterity even as they are extremely resistant to cuts.
This makes them suitable for high-risk applications including sheet metal handling, carpentry work and glass handling.
Chemical Resistant/Disposable Gloves
Ejendals' chemical-resistant gloves come in reusable and disposable versions. Reusable gloves can be made from nitrile, latex, PVC or other materials and are tested for resistance against different chemicals according to EN374-3 Standards – please see individual listings or contact our team for details. Disposable gloves are made of thinner materials and provide lower levels of protection, but are better suited to some environments. Some disposable gloves are also non-chemical-resistant – they are usually inexpensive and suited to intense but non-chemically hazardous environments such as restaurant kitchens.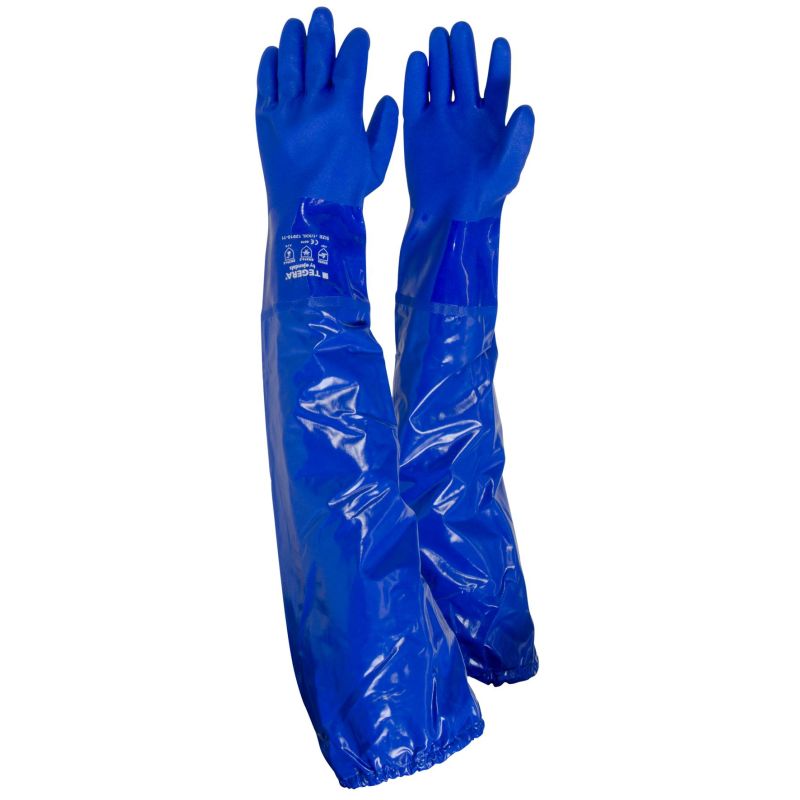 The Ejendals Tegera 12910 Extra Long Chemical Resistant Gloves feature an extra long 700mm design which provides comprehensive protection of the hands and arm in chemical risk environments. They have achieved an EN374-3 rating of AJKL, providing protetion against Methanol, n-Heptane, 40% Sodium Hydroxide and 96% Sulphuric Acid.
These gloves are suited to chemical and chemical technology applications including primary chemical processing as well as decontamination and sanitation work.
Thermal Gloves
Thermal gloves come in two categories: heat-resistant gloves and cold-resistant gloves. These are designed to protect you from burns and frostbite respectively – two of the most severe and debilitating traumas your hands can ever be exposed to. Heat-resistant gloves are suitable for applications such as welding and the hot work involved in metal fabrication. Cold-resistant gloves feature insulation which makes them suited to work in winter conditions – even when temperatures fall dramatically.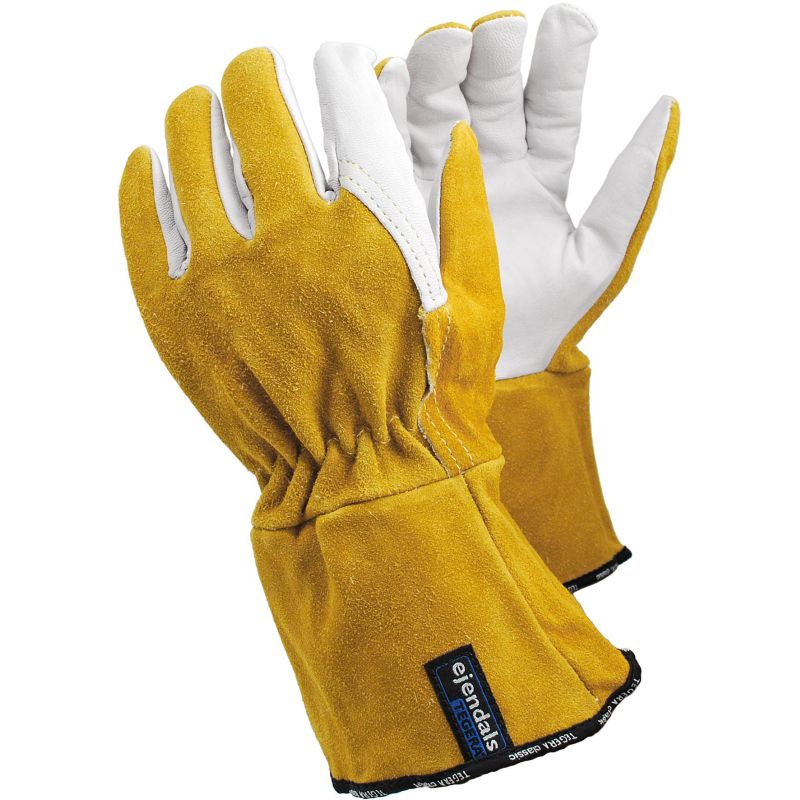 The Ejendals Tegera 118A Welding Gloves can withstand contact heat up to 100°C and provide protection against welding sparks and grinding splash. They offer the highest levels of resistance available against burning and and splashes of molten metal.
The 118A Gloves are versatile gloves and are suited to a number of applications outside welding, including engineering, metalwork and mining.
ESD Gloves
ESD gloves protect against electrostatic discharge. Static electricity builds up in the body and can cause serious harm to people and equipment unless it is diverted. Ejendals' ESD gloves are lightweight and supple, and are designed mainly for use in electrical installation and electronics.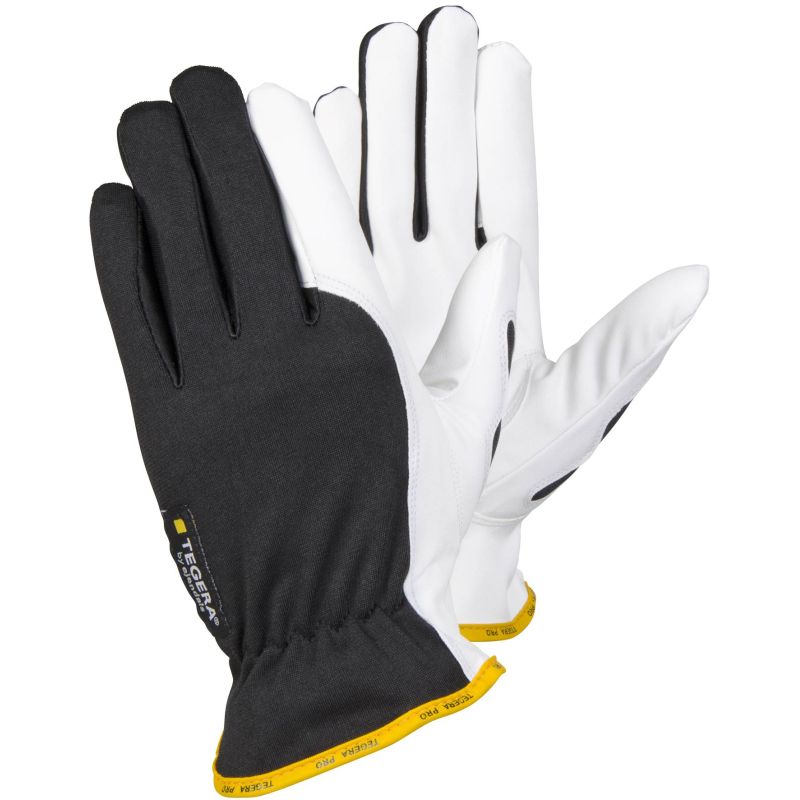 The Ejendals Tegera 9101 ESD Anti-Static Gloves are the complete electronic installation gloves, with extremely good fingertip sensitivity, flexibility, grip and fit, as well as protection against ESD.
Their ergonomic design is comfortable to wear and they are suited to a variety of uses outside electronics work, including inspection work and machine operation.