Dyneema: Diamond Technology in the Palm of Your Hands
Wednesday, 13 May 2015
What Is Dyneema?
Made with diamond technology, Dyneema Gloves are the perfect product for anyone wanting cut protection that doesn't hamper his or her movement. DSM Dyneema is a company that has developed a fibre – known as the Dyneema Fibre – that is used for the creation of a polymer that is cut resistant while remaining light. Made from Ultra-High Molecular Weight Polyethylene, Dyneema developed a method for creating long molecular chains that transfer load more effectively to the polymer backbone. What this means in lay terms is that Dyneema's fabric offers the same amount of cut resistance as other gloves, but at a fraction of the weight.
Advantages of Dyneema Gloves
The main advantage of Dyneema Gloves is that they provide you with protection against cuts without compromising flexibility and dexterity. This makes the Dyneema Gloves perfect when you are working at tasks that require a high level of fine motor skills. Materials made from the Dyneema fibre are on average 40% lighter than equivalents that are manufactured from aramid fibre. This means a large difference in the thickness of the gloves as well as the weight. Dyneema Gloves have also been found to be have a higher level of abrasion resistance than aramid equivalents. Gloves that come into contact with sharp objects are likely to be abraded over time and this abrasion can have a huge impact on the efficiency of the glove's protection against cut resistance. See the graph below for a comparison of different materials and their protection over time.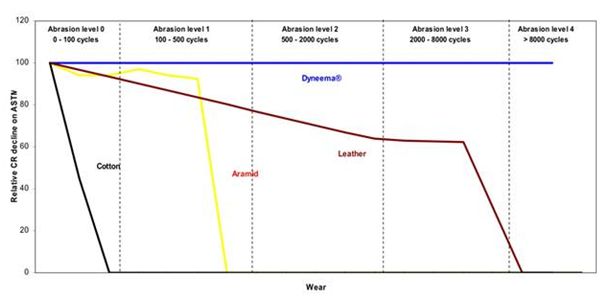 Complete Comfort with Dyneema
The lightness of Dyneema fabric has the added bonus of providing you with a greater level of comfort when wearing the gloves, even over a long period. Maintaining a consistent level of temperature is essential for comfort while working – if your gloves make you too hot, there is going to be problems with productivity and efficiency. When you are working, you are generating heat and protective clothing has to counter-balance this by ensuring that heat is dissipated from the inside to the outside.
The Dyneema Fabric is fantastic at transferring heat from the inside to the outside and the higher the Dyneema content of a glove, the more efficient it is in transferring heat.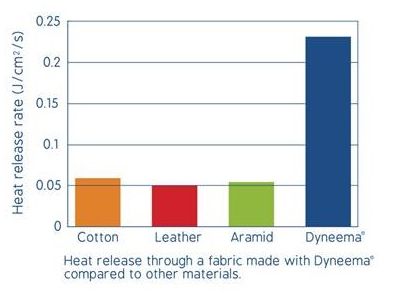 The visual below shows a heat map that demonstrates the difference that Dyneema content can have on your comfort. These images were taken after one hour of static use and clearly show the heat relieving properties of Dyneema fabric.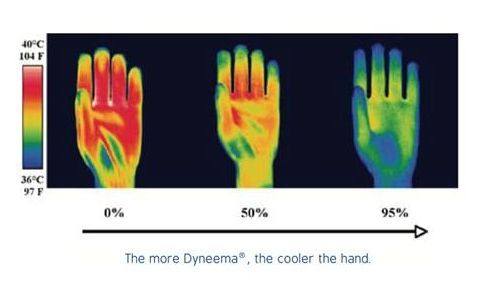 Ideal Applications of Dyneema Gloves
Dyneema Gloves are suitable for a wide range of environments and tasks because of their flexibility and the protection that they offer. The gloves are resistant to cutting, abrasion, puncture and tear (levels of resistance differ from glove to glove, please check carefully before purchase) making them a hardwearing solution for a range of different tasks. In testing, it has been found that exposure to UV light does not affecting the cut resistance of Dyneema Work Gloves.
Some industries for which Dyneema Gloves are suitable include:
Construction
Automotive
Off-shore work
Commercial fishing
Warehousing
Steel handling
Glazing
Lasting Quality from Dyneema
Though many gloves can protect you against cuts and injuries, not all gloves have the durability that Dyneema Gloves. Cut resistant gloves are important for protection and if this protection lessens over time, there is a chance that you could have an injury. The gloves are designed to be heat resistant enough that you can launder them without doing any damage to the levels of protection offered. Standard chemicals used in the cleaning process also do not have an effect on the efficiency of the gloves.
To find out more about Dyneema gloves or to purchase, please visit the Safety Gloves Dyneema category.