Ejendals Tegera: Protecting Hands and Feet
Wednesday, 5 June 2019 | Admin
Swedish-made Ejendals Tegera work gloves have quickly built a reputation for quality. They work with only carefully selected factories to ensure your safety equipment is as high-quality and reliable as possible.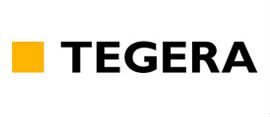 Generations of Expertise
Generations of Swedish protective wear production has culminated in Ejendals' current form. They are split between Leksand and Jokipii, Sweden, and produce 50% of their gloves in their own factory. Ejendals – and their gloves sub-brand Tegera – have grown in strength across Europe and are now both synonymous with reliability, integrity and quality.
responsible Local Production
Ejendals have long been committed to considering the long-term impact of their actions, be that towards their customers, employees or the environment. Their presence in their community is so great that they even have an ice hockey stadium named after them: Tegera Arena.
Cutting Edge Research
Working with researchers and customers, Ejendals endeavour to design the highest standards of protection, durability and ergonomics. Their head office in Leksand, Sweden, is also home to an R&D lab and testing facility. It is from here that Ejendals drive the global standard for safety gloves and footwear to new heights.
The Range
Tegera is the Ejendals sub-brand responsible for producing only the highest-quality work gloves. Their range excels most notably in thermal work gloves, but maintains a consistent high quality across the board.
Our Top Selection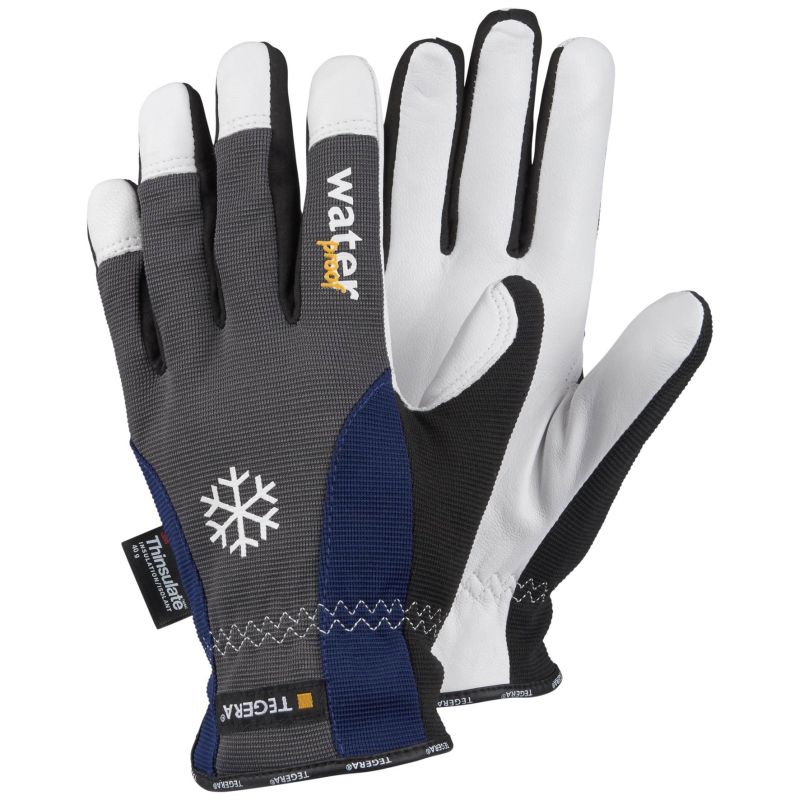 Ejendals Tegera 295 Waterproof Thermal Work Gloves
Not only are the Ejendals Tegara 295 Waterproof Thermal Work Gloves capable of performance at extreme low temperatures – as low as -30ºC – they are also waterproof. These gloves excel at maintaining both grip strength and dexterity in these extremes, so that your hands can remain comfortable, effective and safe in harsh working conditions.
Key Features: Thinsulate lining; fully waterproof outer lining; goatskin leather palm; low emissions production
Shop Now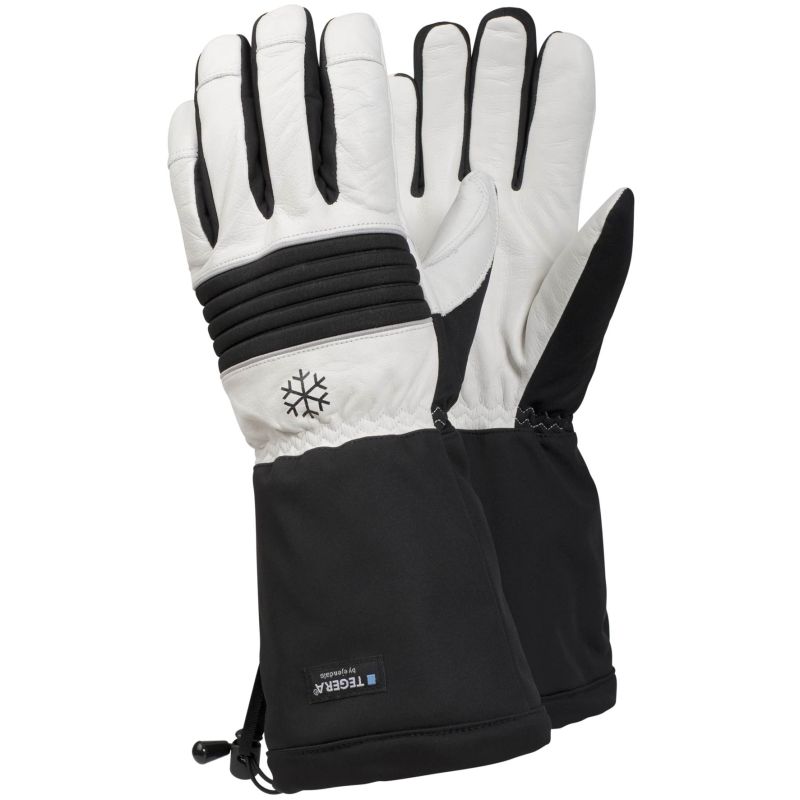 Ejendals Tegera 595 Thermal WaterProof Work Gloves
The big brother of the 295 gloves, Ejendals Tegera 595 Thermal Waterproof Work Gloves are appropriate for even more severe conditions. Their extra-long design protects not only your hands but also your wrists and ensures a seal with other cold-weather clothing. They offer slightly less dexterity than their lighter counterpart, but include Thinsulate 200g for the best possible protection.
Key Features: Thinsulate 200g lining; fully waterproof outer lining; extended wrists for additional coverage; low emissions production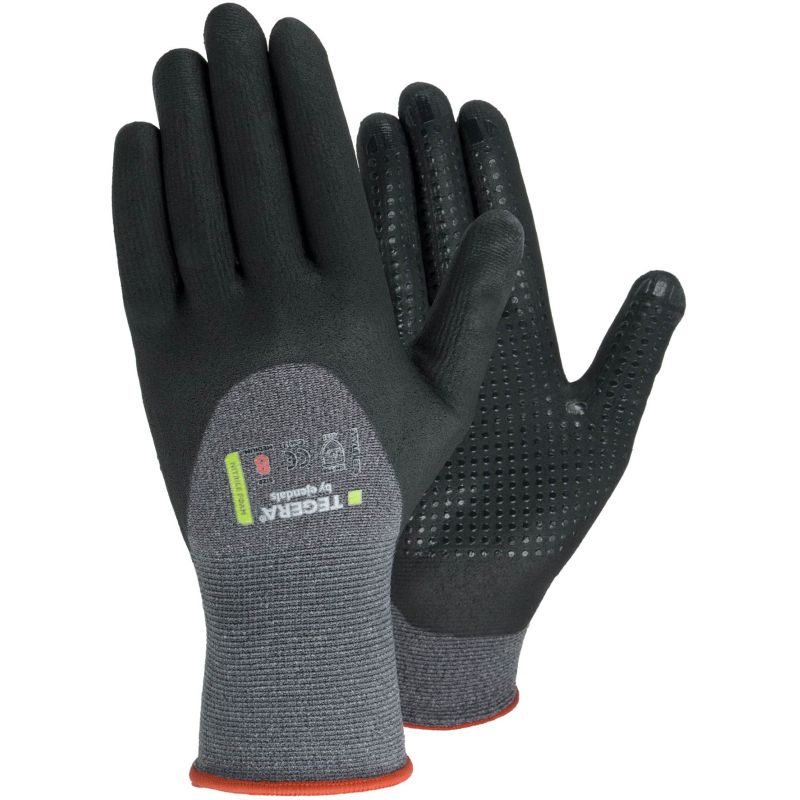 Ejendals Tegera 874 3/4 Dipped Precision WOrk Gloves
As well as their extreme cold gloves, Ejendals also manufacture more conventional exceptional quality work gloves. The Ejendals Tegera 874 3/4 Dipped Precision Work Gloves target freedom of movement through their light Lycra and nylon blend body. They feature palms that are dipped in a nitrile layer to provide exceptional oil- and water-repellent properties up to the knuckles without sacrificing finger sensitivity.
Key Features: Lycra/nylon body; nitrile palm; knitwrist cuff; balance dexterity and protection
Shop Now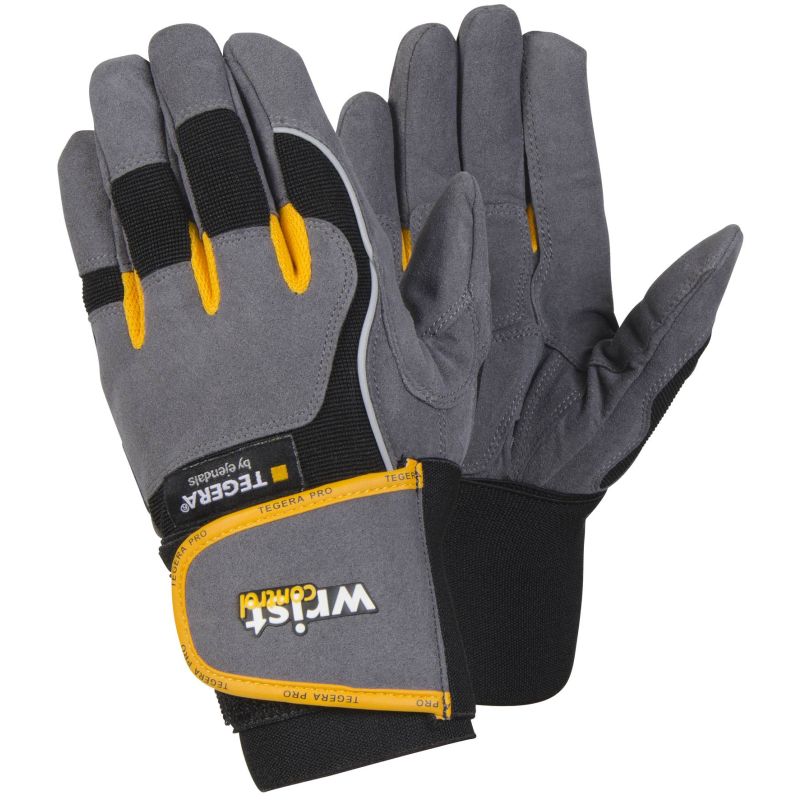 Ejendals Tegera 9295 Wrist Supporting Work Gloves
For those people who need additional protection in their wrists, Ejendals manufacture the Ejendals Tegera 9295 Wrist Supporting Work Gloves. These synthetic leather work gloves both breathable and secure, featuring a Macrothan fibre to keep your hands as comfortable as possible. These gloves are a great example of Ejendals excelling beyond thermal gloves, and are our top pick across the site for wrist support work gloves.
Key Features: breathable Macrothan fibre; ergonomical design; chrome free synthetic leather; full wrist support
Shop Now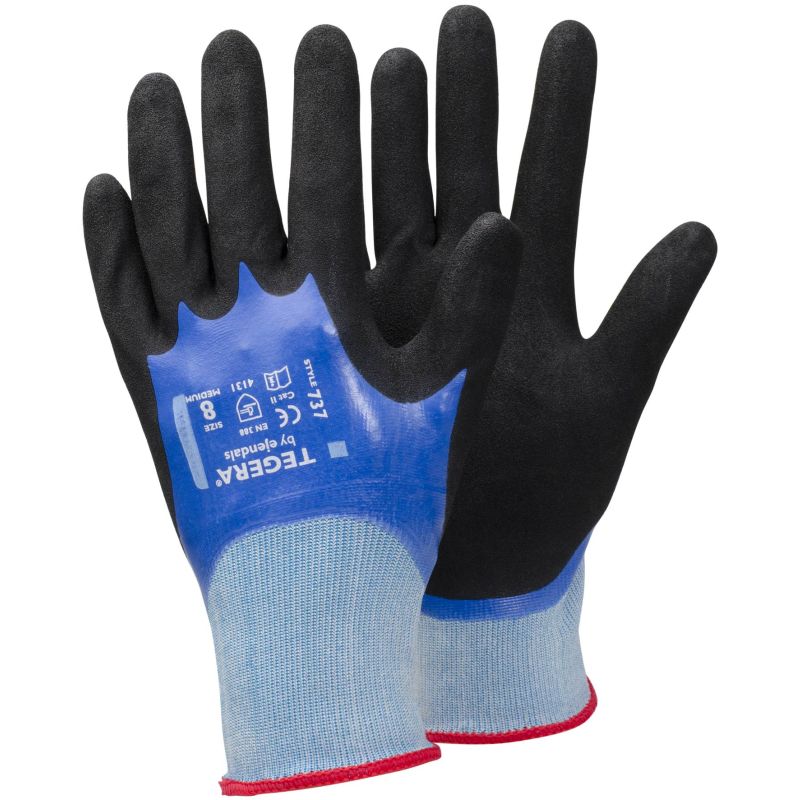 Ejendals Tegera 737 Double Dipped Assembly Gloves
The Ejendals Tegera 737 Double Dipped Assembly Gloves are Ejendals' most heavy-duty oil-repellent gloves. They have been double dipped in nitrile to offer water- and oil-repellent properties over most of the hand without sacrificing fingertip sensitivity. Their black-blue design features a sandy patterning on the fingers and palm, which offers these gloves exceptional gripping qualities.
Key Features: light nylon body; sandy grip-texture; double dipped in nitrile; balance dexterity with protection
Ejendals Tegera excel in thermal protection and elsewhere. If you would like to find out more, please take a look at our Ejendals Gloves category.
If you have any questions, or anything to add tell us in the comments below, or find us on Facebook and Twitter!