Impacto: Anti-Vibration and Impact Gloves
1 Comment
15 September 2020
Impacto are the latest Canadian manufacturer to make waves in the UK PPE industry. Their impressive catalogue includes a range of stylish workwear and safety equipment designed to protect industrial workers from the harsh conditions befitting their profession.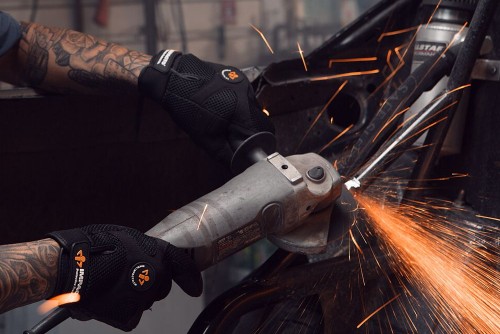 Impacto Gloves are ideal for use handling tools
Getting To Know Impacto
If you're looking for something in particular, here's what we're going to cover:
Introducing Impacto
Since 1988, Impacto have been manufacturing and marketing specialised safety equipment that not only protects workers, but increases overall wellness and productivity. Their policy is simple: to provide "ergonomically designed personal protective equipment to reduce impact, vibration and repetitive motion in any work environment". Whilst many manufacturers lose sight of their goals in the haste to fit demand, Impacto has held true to their original focus. In fact, just about every pair of gloves we've got our hands on has been designed to dampen and reduce vibrations from power tools and machinery.
Each of their safety gloves is embroided with the Impacto seal of quality, a bold logo resembling a futuristic red shield with a stick man plunging through the centre. An initial glance might leave you thinking you've purchased a new pair of sportswear - but with some wear and appreciation of the finer details, you're left without doubt that you've purchased a finely crafted pair of safety gloves that will not only do their job, but will excel in all areas.
Innovative Anti-Vibration and Impact Technology

How It Works...
✔ VEPs (Visco-Elastic Polymers) are solids that mimic the behaviour of liquids
✔ They allow the dissipation of shock waves better than any other material
✔ The "solid-liquid" nature of VEPs absorbs shock waves in all directions at once
✔ They reform to their original shape slow enough to prevent outward pressure
Included With...
✔ Impacto 400 Gel Half-Finger Padded Gloves
✔ Impacto 501-10 Suede Anti-Vibration Gloves
✔ Impacto 502-10 Anti-Impact Gloves
✔ Impacto AV408 Mechanics Flex Gloves
✔ Impacto 601 PolyCotton Anti-Impact Liners

How It Works...
✔ Non-permeable polymer bladder with multiple air chambers
✔ Designed to reduce vibration energy transmission
✔ Bladder with multiple air chambers conforms to flex-lines of palms and fingers
✔ Redistributes shockwaves, allowing wearer to maintain control of tools
Included With...
✔ Impacto BGNitrile Anti-Vibration Air Gloves
✔ Impacto BG650 Cowhide Leather Air Gloves
✔ Impacto BG473 Leather Anti-Vibration Gloves
✔ Impacto BG408 Impact Vibration Air Gloves
Full Finger Gloves For RSI and HAVS
Engineering and construction often involve the use of vibrating hand-held tools and pneumatic machinery. Using equipment like this day in and day out can cause extreme strain on your hands and wrists, eventually causing RSI (Repetitive Strain Injury), HAVS (Hand Arm Vibration) and wrist over-extension. Impacto's range of Full Finger Gloves conform to the latest European directive (EN 10819) for vibration resistance, working to soothe and protect the palms and digits against tremors.
Impacto AVPRO AV7590 Anti-Vibration Mechanics Gloves
The Pros...
✔ Extended wrist cuffs stabilise the hands and wrists
✔ Reinforced with VEP padding to absorb and redistribute vibrations
✔ Anti-slip patches across fingers and palms boost grip in all conditions
Good For...
✔ Mechanics seeking a new standard of anti-vibration protection
✔ Sufferers of over-extension and flexation of the wrist
✔ Garages and warehouses where oil-slick tools are common
The Cons...
✘ Though mechanically robust, the AVPro are susceptible to punctures
✘ We advise wearers to avoid particularly wet weather
Editor's Review: Secure and tightly padded, the Impacto AVPro put Impacto's VEP padding in action, outstripping other safety gloves of the same price and design. What we love about the AVPro is the firm grip they provide - you can really tell the difference those anti-slip patches make, and their tactfully placed flex-lines ensure a high level of dexterity despite their heavy-duty build.
Impacto BG408 Impact Vibration Resistant Air Gloves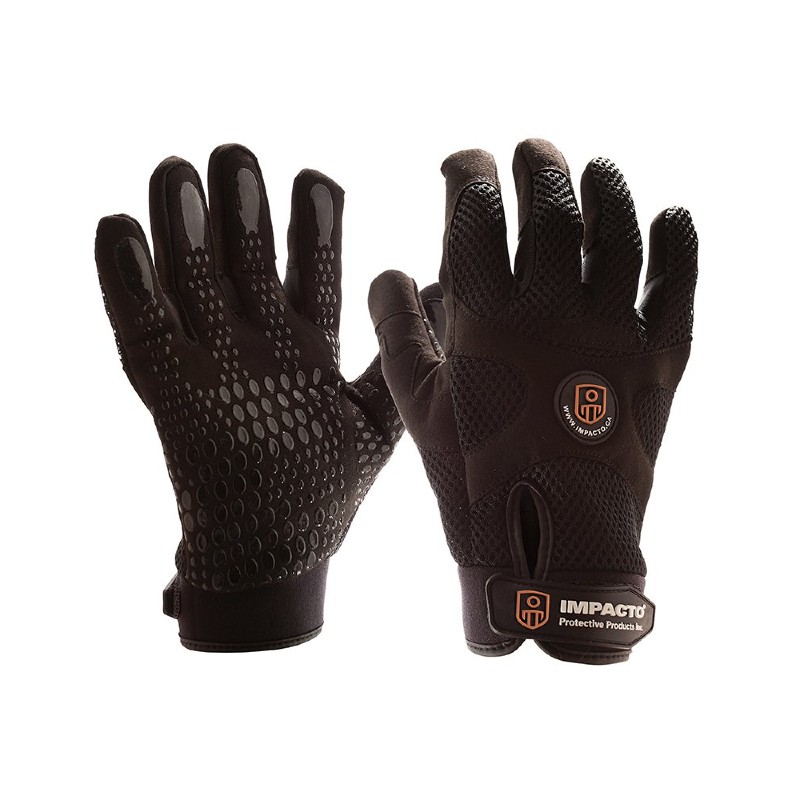 The Pros...
✔ Bubble Glove Bladder technology allows for superb vibration resistance
✔ Silicone-dotted palms and fingers ensure outstanding grip
✔ Neoprene cuff warms the hands and prevents dust entering gloves
Good For...
✔ Workers suffering from HAVs and RSI
✔ High dexterity work requiring a good level of grip
✔ Night shifts when your fingers are numb with cold
The Cons...
✘ Not the best for particularly hot summer days
✘ Lightweight design makes the BG408 susceptible to abrasions
Editor's Review: Lightweight and close-fitting, the Impacto BG408 conform to the anatomic structure of the hands to allow for a high level of movement and control. Silicone-dotted palms and fingers ensure a reliable grip in all conditions, whilst their neoprene cuffs prevent cold and dust from entering the gloves.
Fingerless Gloves For Tactile Work
A good chunk of Impacto's range of glovewear is devoted to fingerless gloves - and that's not incidental. Half-finger gloves are essential for meticulous assembly and handling tasks where other gloves fail. What's unique about Impacto's Fingerless Gloves is that they close the gap between traditionally more robust full-finger gloves and less durable fingerless gloves. Reinforced with either grain, cowhide or suede leather, Impacto's fingerless gloves make a permanent aid for workers requiring tactile on-site protection.
Impacto 501-10 Original Fingerless Suede Anti-Vibration Gloves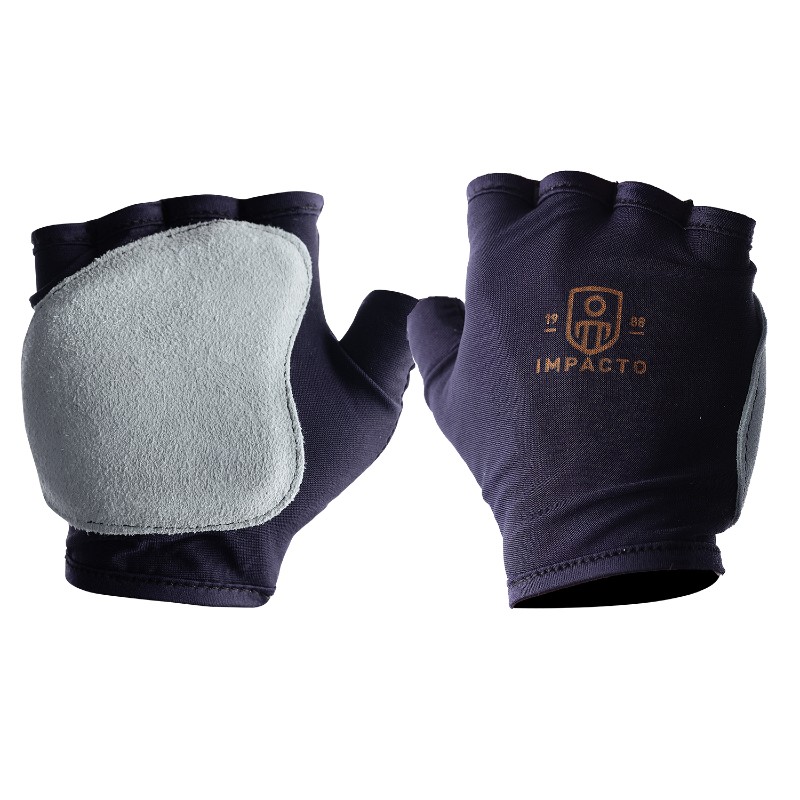 The Pros...
✔ Fingerless design allows for good tactical feedback
✔ Padded with VEPs to absorb vibrations
✔ Palms are reinforced with suede leather to dull impacts
Good For...
✔ Assembly work requiring fast-paced hand action
✔ Domestic DIY work involving hand-held power tools
✔ Absorbing dull blows from recoiling tools and instruments
The Cons...
✘ Though robust, the 501-10 won't protect your fingers
✘ Fingerless style means fingers become easily cold
Editor's Review: Whether you're a self-employed worker or a DIY enthusiast, the Impacto 501-10 are bound to exceed expectations, forgoing a heavy-duty protection for a lightweight and agile construction. With a fingerless design that leaves the digits free for close proximity work, the 501-10 will absorb the blows and tremors of vibrating hand-held tools thanks to their VEP padded/suede leather palms.
Polyester and Cotton Glove Liners
Glove liners are traditionally worn inside mitts and safety gloves to provide a thin extra layer of protection. Impacto takes this to the next level by incorporating their vibration-resistant VEP padding into virtually all of their underglove liners. If this wasn't enough, their glove liners are tested against a broad range of mechanical risks, doubling the standard of protection a wearer can expect from a regular pair of safety gloves when worn with an Impacto Glove Liner.
Impacto 601 Polycotton Anti-Impact Glove Liners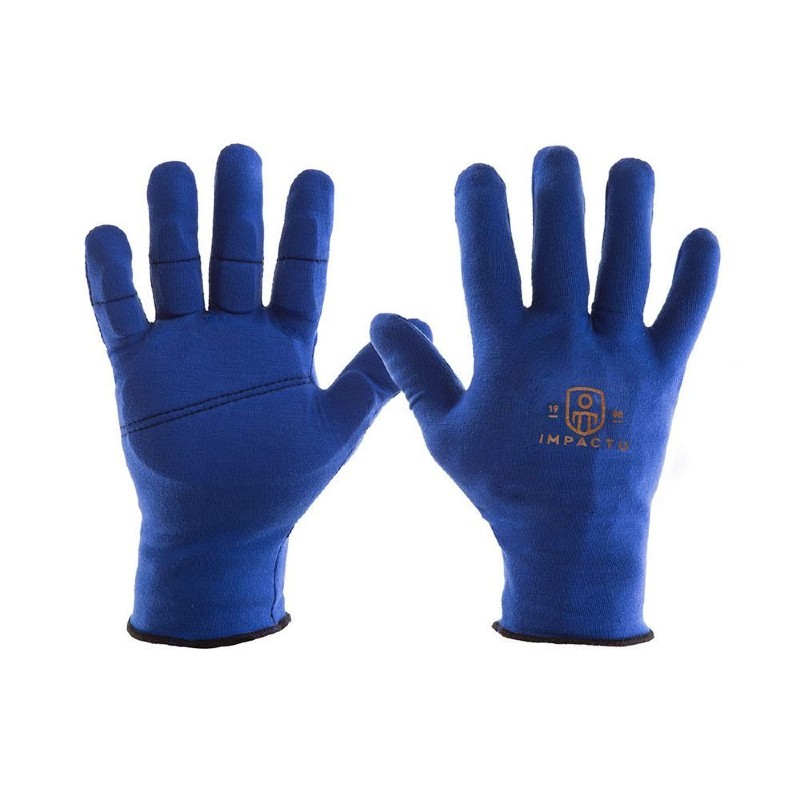 The Pros...
✔ Fits easily under an existing pair of safety gloves
✔ Polyester/cotton construction allows for snug comfort
✔ Contoured VEP padding absorbs impacts and vibrations
Good For...
✔ Maximising your workforce's safety against mechanical hazards
✔ Providing extra warmth in cold and blistering conditions
✔ Reinforcing gloves against dull impacts and vibrating tools
The Cons...
✘ Not appropriate for use without a suitable pair of safety gloves
✘ Vulnerable to cuts and lacerations from sharp tools
Editor's Review: Ensuring your workforce are well protected against industrial hazards and risks can be expensive - but the pay-off is more than worth it. A pair of Impacto 601 Polycotton Glove Liners will not only insulate your workers gloves against the cold, but will rebuff minor impacts and vibrations, boosting the protection their standard gloves already offer.
Make Your Workplace A Safer Place With Impacto
We believe Impacto are manufacturers you can trust for a solid pair of gloves. Their full-finger and fingerless style gloves provide all-round high levels of mechanical protection, and their wholesale use of formidable anti-vibration and impact technology is something we think is missing in standard glovewear.
If you're looking for more Impacto products, why not check out our full range of Impacto Gloves?
Have any questions, or anything to add? Tell us in the comments below, or find us on Facebook and Twitter!