Snickers: Scandinavian Simplicity and Style
5 September 2021
Snickers gloves are a true product of their environment, built for harsh Scandinavian winters with a focus on cold handling, water resistance and mechanical protection. It's because of their tendency to combine dexterity and grip with cold and weather resistance that has led Snickers gloves to become a trusted and valued part of British workforce PPE.
Snickers-branded products ooze quality and reliability, and this is all true whether you're looking at Snickers gloves, kneepads, jackets or trousers. This short guide looks into Snickers, who they are, where they come from, their products, and their ethos. We finish with a short guide describing our best Snickers gloves, ideal for preparing for the winter ahead.
Snickers: Inventing Workwear
Snickare is a Swedish word that means carpenter or joiner. It is from here that Swedish-Finnish craftsman Matti Viio derived the name Snickers. Viio realised in 1975 that his workwear simply wasn't up the scratch, and he quickly came up with his own idea; what if instead of buying workwear, what if he invented his own?
Inspired by how fast the tools and working methods where developing around him, he developed workwear that met the requirements of strength, adaption and freedom of movement that was now required. Within a few years he had a collection of gloves, tool vests and work jackets that could match and exceed whatever was out their on the market.
The Snickers Mission
Snickers aim to inspire professionals to a smarter and safer work life. Founded in the 1970s, their ethos hasn't changed, and their collection today is still full of inventive products that push boundaries and improve worker safety. Their intention is to keep redefining the concept of modern workwear, and by doing that they can keep pushing the industry forward in terms of technology, safety, intuition and productivity.
Why Choose Snickers?
Our range of Snickers gloves covers all areas, including water, cold, abrasion, hi-vis and mechanical protection. They are all high quality and promise longevity, while the thermal gloves are perfect for the extreme weather conditions. Some gloves that we would recommend includes.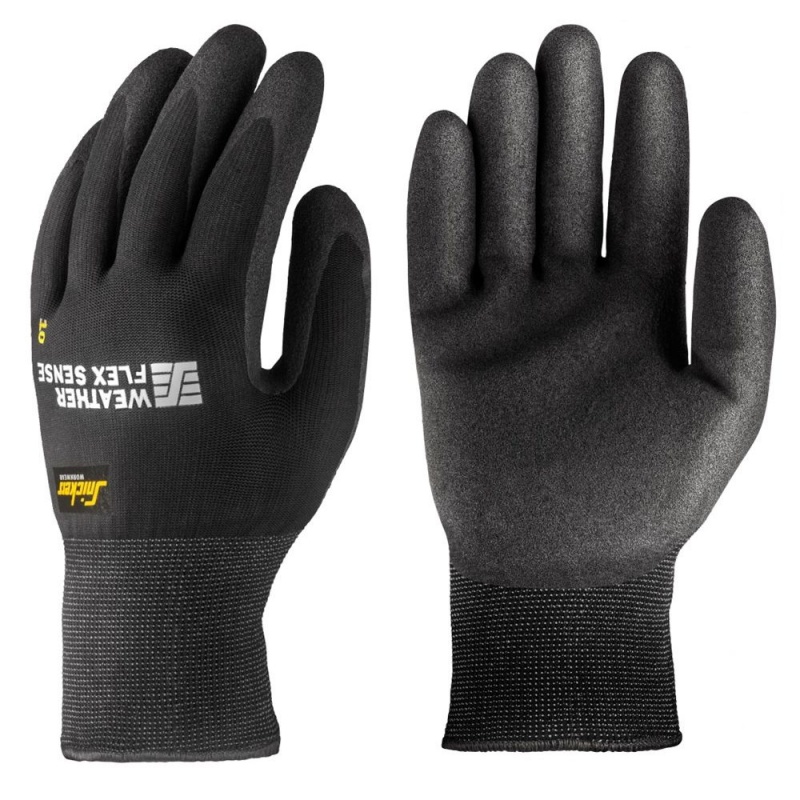 Snickers Flex Sense All weather Gloves 9319
We don't sell many gloves that come with level 3 contact cold resistance and exceptional flexibility, which is why the Snickers Flex Sense All Weather Gloves 9319 are instant top sellers. The gloves will continue to provide flexibility even at temperatures as low as -30°C, which when combined with the good all-round mechanical protection means that they really are must-haves in freezing medium risk workplaces. More flexible than the rest, we recommend these for freezer and winter outdoor handling work.
Key Points: Excellent -30°C contact cold protection; retains flexibility at low temperatures; best suited to indoor, outdoor and cold use.
Shop Now
Prepare for Winter with Snickers Workwear
With winter approaching Snickers have got your back. Exceptional cold- and water-resistant gloves feature as heavily as their dexterous dry handling gloves. To view our full Snickers range, take a look at our Snickers Gloves category.
If you have any questions – or anything to else to add – tell us in the comments below, or find us on Facebook and Twitter!