Towa Gloves: Harmony, Integrity, and Advancement
29 May 2019
Towa Gloves are already a household name is Japan and fast becoming one across the rest of the world. From heavy duty work gloves to lighter gardening gloves, they lead the market in providing a firm and steady grip.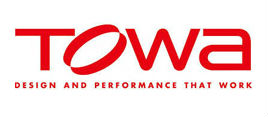 Seventy Years Of Gloves
Renowned across the globe for their rubber products, the city of Kurme in Fukuoka Prefecture, Japan, is also the home of the Towa Corporation. Founded by Hajime Watanabe in 1947 as Toko Shokai, the company quickly grew into a household name across the length of Japan.
Towa's growth didn't stop there. In the 1980s, after opening their first overseas factory in Malaysia, Towa began to export their gloves globally. Today they run four overseas factories, work with over fifty distributors and maintain a global reputation for supplying premium gloves.
Towa Microfinish Technology
The pride of Towa's glove production is their patented MicroFinish grip technology. Introduced in their ActivGrip gloves at a key point in the company's development, this technology can now be found throughout Towa's glove range and helps to ensure they stay at the front of their field.
The Range
Towa's high grip range are ideal as work or gardening gloves. Keeping the user in mind, they produce a wide selection of gloves in Nitrile, Latex and Vinyl to suite all kinds of hands. In addition to their straightforward and universal ActivGrip range, Towa also produce more specialist products, such as gloves developed for impact protection.
Our Top Selection
Towa ActivGrip Advance TOW581 Nitrile-Coated Gloves
It is no coincidence that these are our top selling Towa gloves. The Towa ActivGrip Advance TOW581 Nitrile-Coated Gloves provide exceptional grip alongside an ergonomic nylon interior. Their double coated surface offers oil protection that is nearly unparalleled among similar gloves.
Key Features: nitrile grip; nylon body, exceptional oil protection; ergonomic design; "open back" styling
Shop Now
If you have any questions, or anything to add tell us in the comments below, or find us on Facebook and Twitter!