UCI: Leadership in Protection
11 July 2019
It's common in industrial applications to come into contact with chemicals, oils, sharp materials such as glass and metals, heat and more, which means that you need gloves that can match the level of threat. With top-selling brands such as Kutlass and Ardent, we couldn't take ourselves seriously without offering UCI gloves in our own portfolio. UCI has an ever growing range that has led them to become the go-to brand for mechanical industries, with a reputation for high quality PPE worldwide.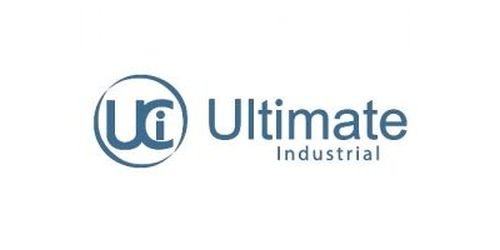 UCI are known globally for high quality, innovative products
But who are Ultimate Industrial and where did they come from? This short guide looks into our favourite PPE brand, giving you the lowdown on their back story, their best work gloves and the gloves we would recommend for your industry.
From a Small Gloves Distributer to PPE Global Dominance
Ultimate Industrial's rise has been something to behold. Formed in 1986 in Wolverhampton, UCI quickly moved from gloves to PPE, with eyewear, hearing protection, respiratory protection, head protection, footwear and clothing all being a key part of their brand. With such an impressive portfolio, UCI could use their extensive network of trade distributors to ensure that their products protected hands in workplaces across the UK.
UCI's Aim: Customer Satisfaction, Quality and Social Responsibility
Ultimate Industrial have protected our hands for over 30 years, and although their gloves have changed, their aims have not. They have always strived to increase customer satisfaction by selling affordable but high-quality PPE. This is combine with a focus on the environment and on being socially responsible, meaning that they only source their products from manufacturers who reduce their impact on the environment, and treat their employees right.
By conducting business with integrity, it means that they have built a brand that you can trust. If you've decided that you want to take a look at what Ultimate Industrial has to offer, then below is a small list of recommendations.
UCI: The Ultimate Industrial Gloves
For anyone who works in industries where you can expect a little dirt, then UCI should really be a go-to brand. This short guide below shows you the best of what Ultimate Industrial has to offer, with gloves for different applications and risks within industrial industries.
The Best UCI Gloves for Handling Tasks
Designed for light handling tasks, the Black PU Coated Polyester Gloves offer dexterity, sensitivity, and good hand protection. Best suited for delicate handling tasks, these gloves are perfect for jobs such as precision handling, product inspection and packing. Their PU coating offers strong durability too, meaning that you know you are getting your money's worth when you make your purchase.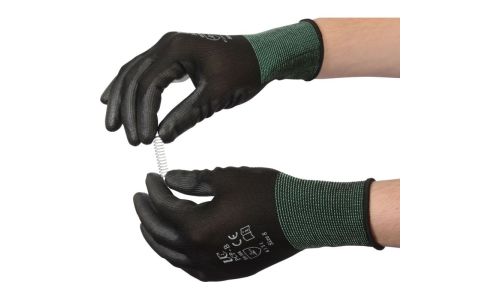 Black PU Coated Polyester Gloves PCP-B
The Best UCI Gloves for Cut Resistance
For tasks such as glass and metal handling, you can't go wrong with the Kutlass Level 5 Cut Resistant Gloves PU500. The breathable and flexible liner gives you total dexterity, something needed while handling incredibly sharp and thin materials. What's most impressive is their level 5 cut resistance, which means that you should be able to handle extremely sharp objects without a risk being posed to your hands.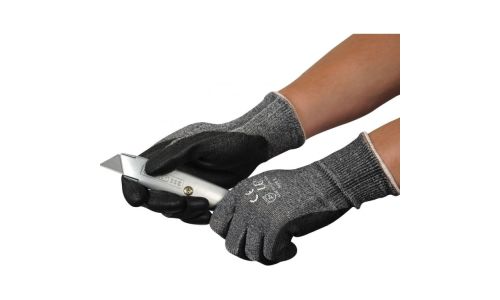 Kutlass Level 5 Cut Resistant Gloves PU500
The Best UCI Sleeve for Arm Protection
An area where UCI excel is their range of arm protection PPE. The Kevlar Sleeve KKSL is a good example, offering excellent protection from where your fingers start to an area of choice, with four different lengths available. These are perfect for pairing with a pair of Kutlass Level 5 Gloves, as they can prevent any sharp materials from hurting your wrists and arms.
The Best UCI Gloves for Chemical Use
Another where UCI are at the top of their game is with their range of chemical-resistant gloves. For tasks that require submerging your hands in chemicals we would recommend that you take a look at the Heavy Duty Chemical Resistant Red 22" PVC Gauntlets, which offer excellent resistance to n-Heptane, sodium hydroxide and sulphuric acid. Heavy-duty and mechanically strong, these gloves are ideal for chemical handling, petrochemicals, refineries and janitorial work.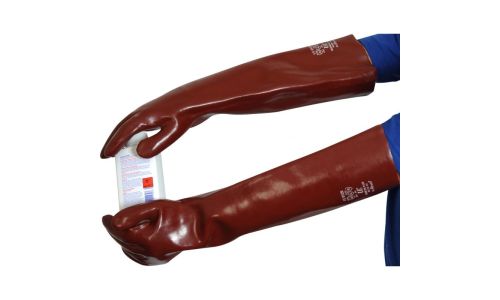 Heavy Duty Chemical Resistant Red 22" PVC Gauntlet RH2258
The Best UCI Gloves for Food and Liquids
Lastly, for food manufacturing, liquid handling, oil use and more, the Capitol II Double-Dipped Rubber Gloves are a must have. Their non-slip pattern is supported by a rubber liner that can protect well against a range of different risks, while the cotton flock lining is perfect for increasing your comfort level over a long day. Ideal for submerging your hands in water, oil and food processing ingredients, these gloves will let you do your job in comfort and safety.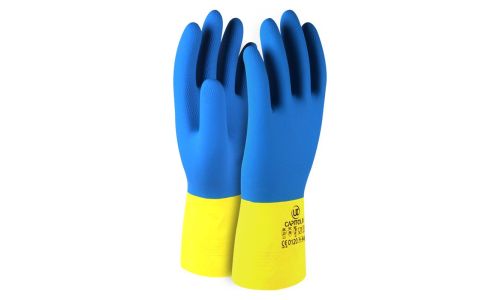 Capitol II Double-Dipped Rubber Gloves
For Industrial Tasks, Go UCI
Ultimate Industrial pride themselves in their ability to consistently produce high quality industrial gloves, with their products protecting workers hands worldwide, in industries as diverse as engineering and mechanics, to oil refinery and food processing. We trust in Ultimate Industrial, which is why we've taken the time to offer the very best of Ultimate Industrial to you. For more information and more products, please see our Ultimate Industrial categories.
If you have any questions – or anything to else to add - tell us in the comments below, or find us on Facebook and Twitter!