Best Fake Tan Nitrile Gloves
Wednesday, 25 July 2018
With everyone well-aware of the dangers of excessive sunbathing, fake tanning is becoming the new normal. And with so many brilliant tanning products out there, it's easy to get excited over trying out the new best tanning invention, and forget to protect your hands while applying it to your skin.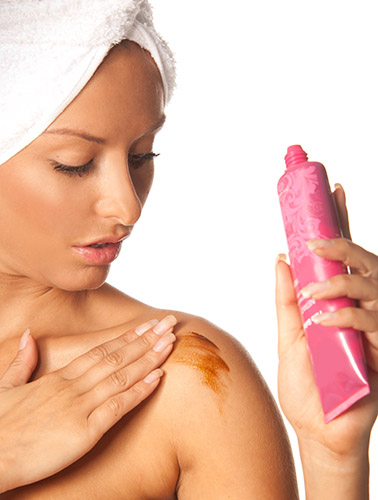 Failing to protect your hands while applying tan can result in staining your skin
Whether you're looking for protective gloves to use at home, or want to stock up on fake tanning gloves for your salon, here at SafetyGloves.co.uk we've got you covered. Our broad range of gloves is suitable for virtually any activity, and fake tanning is no exception. Read on to find out what our top suggestions for the Best Fake Tan Nitrile Gloves are and what it is that made us fall in love with them.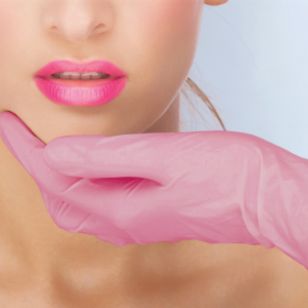 Hand Safe GN560 Pink Nitrile Examination Gloves
Soft, tear resistant and visually appealing, the Hand Safe GN560 Pink Nitrile Examination Gloves are the ideal choice when looking for a way to protect your hands from staining when applying fake tan. These disposable pink gloves are made from nitrile, which means that they are safe to use even if you have latex allergies, tear resistant for reliable protection, and perfectly dexterous, allowing you to spread the tan evenly without the gloves hindering your movement in any way.
Key Features: Supplied in a box of 100 gloves, bright pink in colour, highly dexterous, latex-free
Shop Now
Finding the Right Pair of Tanning Gloves
Not wearing protective gloves while fake tanning can leave your hands covered in uneven stains. This can easily be prevented by choosing one of these highly affordable and practical gloves that can protect your hands while allowing full dexterity and fingertip sensitivity. We've picked out visually appealing, latex-free gloves anyone can safely use, even if suffering from allergies or sensitive skin. However, most disposable gloves, including latex, nitrile, vinyl or any combination of these materials, are perfectly suitable for fake tanning, so make sure to check out our full range of Disposable Synthetic Gloves if you still haven't found the right pair for you.
Have any questions, or anything to add? Tell us in the comments below, or find us on Facebook and Twitter!
Price is for one dispenser of 100 gloves
Single use examination gloves
Latex and powder free
Durable and flexible

| | | |
| --- | --- | --- |
| | | In stock now |

Price is per box of 100 gloves
Disposable nitrile gloves
Extremely good fingertip sensitivity for fine handling
Suitable for fine assembly and painting

| | | |
| --- | --- | --- |
| | | Available, dispatched within 1-5 days |

Price is per box of 100 gloves
Blue nitrile construction for added protection and support
Can resist forces up to 6 Newtons
Ambidextrous gloves

| | | |
| --- | --- | --- |
| | | In stock now |

Price is per box of 200 gloves
Powder-free nitrile gloves for protection and strength
Textured fingers for high levels of sensitivity
Latex free ambidextrous gloves

| | | |
| --- | --- | --- |
| | | In stock now |

Price is per box of 200 gloves
Pink gloves with anti-aging and moisturising properties
Enhanced sensitivity and tactility
Combines protection and comfort in a nitrile glove

| | | |
| --- | --- | --- |
| | | In stock now |