Our Best Food Safe Nitrile Gloves 2021
Monday, 18 January 2021 | Sean
Disposable nitrile gloves are a fantastic choice for the food industry. Strong, skin friendly and single use, you can safely use nitrile gloves while handling food for customers, manufacturing food in a processing plant or even for preparing food in a restaurant or cafe. One of the few things that you need to watch out for when buying your disposable gloves as whether they have been certified for use with food, something identifiable through the EN standard EN 1186.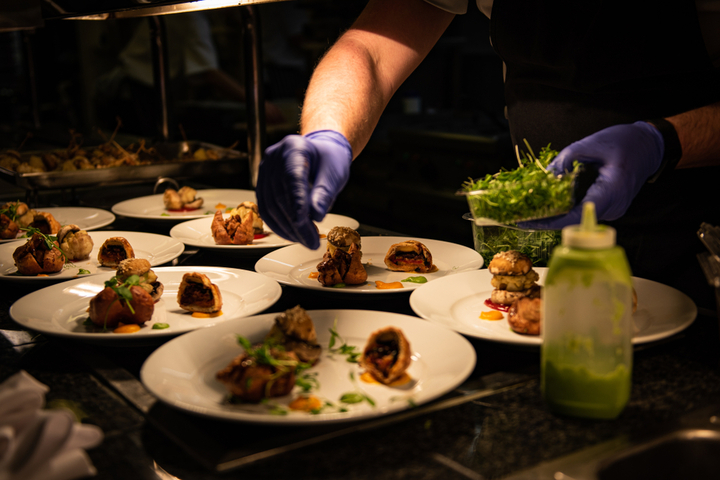 Nitrile gloves are highly popular in the food industry
Another thing you need to watch our for when buying your nitrile gloves for food is making sure you buy the right gloves. Some nitrile gloves have a focus on strength, others on skin health and others are more affordable if you're watching your bank balance, though these tend to tear a little easier. Weighing up all of these different factors, this guide lets you explore Our Best Nitrile Gloves for Food Use, hopefully giving you the chance to find the perfect disposable gloves for you.
Why Use Nitrile Gloves for Food Use
Nitrile as a glove material is becoming more and more common within all industries, in particular within the health, mechanics and food sectors. Nitrile is a type of synthetic rubber, which because it is synthetic, tends to offer more durability, strength and is more skin-friendly than other disposable materials such as latex, vinyl and PVC. If you want to explore why nitrile is best suited to you, head on over to our Disposable Materials Glove Guide where you can find all the benefits and more.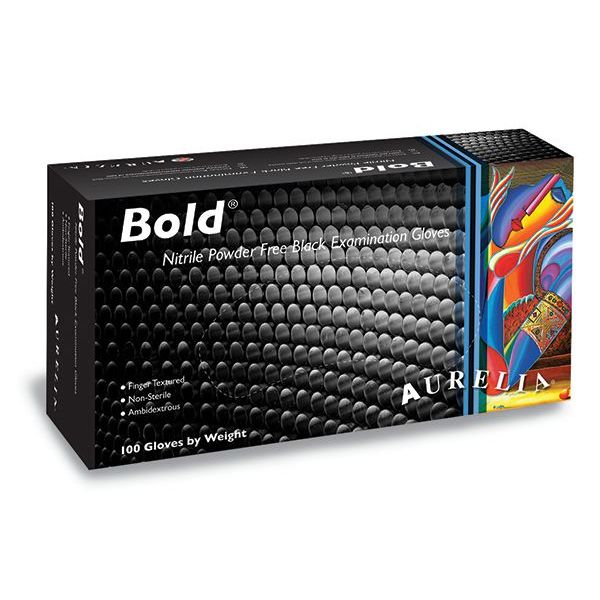 Aurelia Bold Medical Grade Black Nitrile Gloves
The Aurelia Bold Medical Grade Black Nitrile Gloves are some of our most popular disposable gloves within all industries, and it's their skin-friendly, extra strong nature that makes them particularly well suited to handling food. The superb level of strength can reduce the chances of the gloves ripping while you handle food, while the powder-free nature reduces irritation on the hands even if you wear the gloves for an extended period. As with all of the gloves below, the Aurelia Bold Gloves are certified to EN 1186, meaning that they will prevent contamination during food use.
Key Points: Use high tensile strength for extended use; highly grippy for preparing food; also certified for use with chemicals for food processing factories.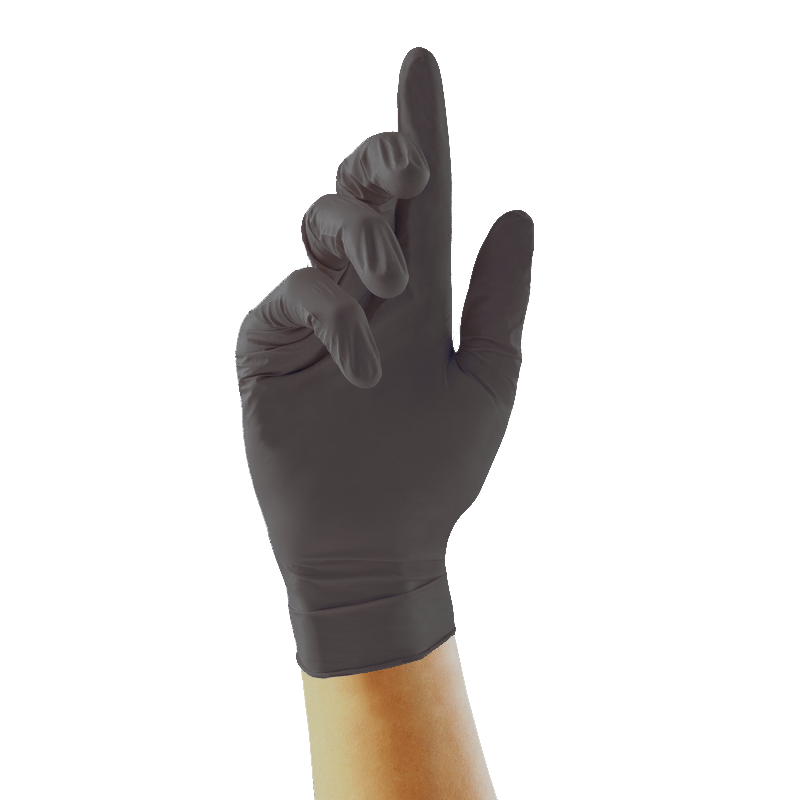 Unigloves Select Black Nitrile GT003 Tattoo Artist's Gloves
Slick, grippy and superb for contamination prevention, the Unigloves Select Black Nitrile GT003 Tattoo Artists Gloves are certified for preventing blood borne pathogens from passing through their material. This means that they are perfect for preventing the contamination of food, a fantastic barrier between harmful substances, your skin and the product. As well as this, these gloves are supplied in a stylish matte black, ideal for looking the part while handling meat on food stalls and more.
Key Points: Certified to prevent blood borne pathogens from contaminating food; supplied in a stylish matte black for trendy look; offer superb strength and flexibility.
Shop Now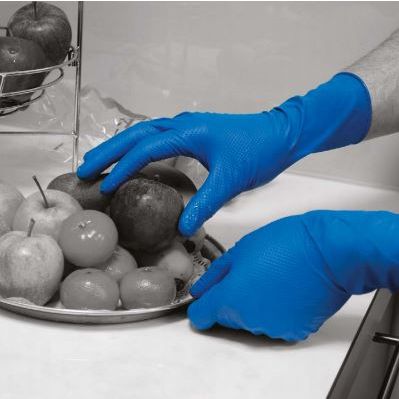 Polyco Bodyguards Finite Blue HD Long Cuff Nitrile Disposable Gloves GL300
We couldn't create a list of top selling nitrile food gloves without including the Polyco Bodyguards Finite Blue HD Long Cuff Nitrile Disposable Gloves GL300. These gloves are designed for food; extra thick, they can sometimes be used twice due to their superb tensile strength, while textured fingertips offer superb control while handling all kinds of food. Top sellers among chefs and others who prepare food, the chemical resistance offered by these gloves is perfect for working with food precursors in food manufacturing plants.
Key Points: Extra thick for extended use; textured fingertips for chopping and handling food; chemical certified for working with food precursors.
Shop Now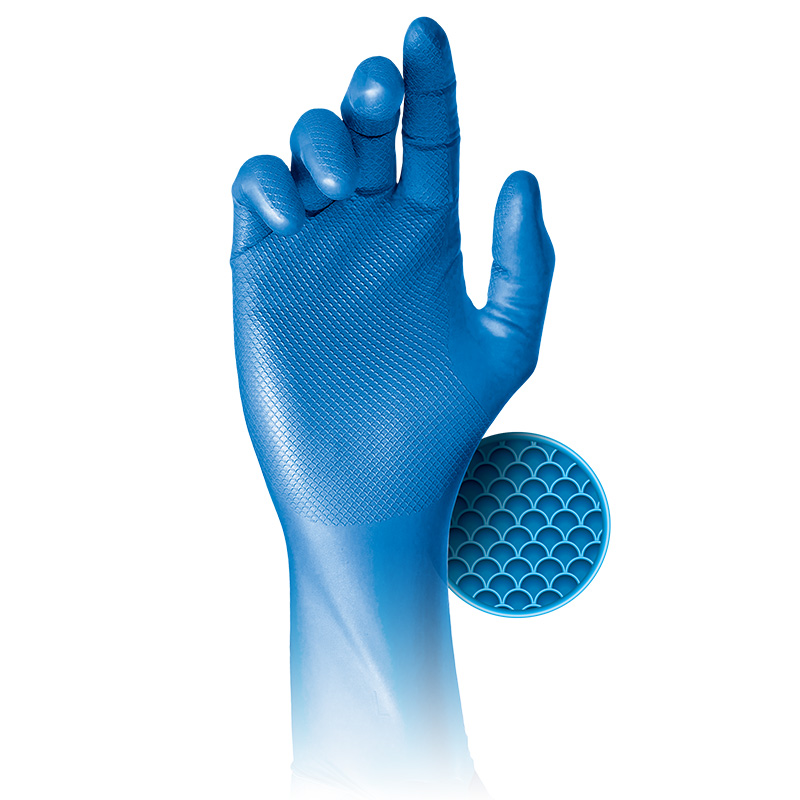 Grippaz Blue Semi-Disposable Nitrile Food Safe Gloves
Some jobs within the food industry require a cut-resistant glove, such as filleting fish and cutting meat. If you work in those industries, you can wear a pair of the Grippaz Blue Semi-Disposable Nitrile Food Safety Gloves over the top of your usual cut-resistant gloves, where they will protect your reusable gloves, offer grip for handling knives and food and provide grease and oil resistance if you're working with kitchen oil. Furthermore, these gloves are powder-free for skin health, while their resistance to animal fats, oils and micro-organisms reduces the chances of contamination during use.
Key Points: Suitable for wearing over the top of cut-resistant gloves; resistant to oils, fats and grease; fish-scale grip for superb hold of food and knives.
Shop Now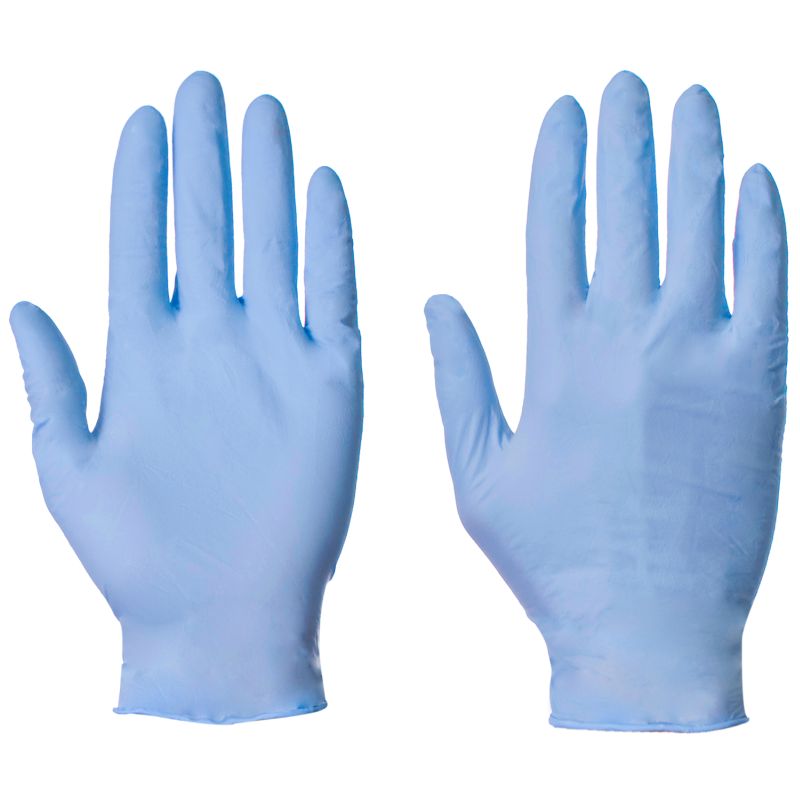 Supertouch Powder-Free Nitrile Gloves 1261/1269/1267
The Supertouch Powder-Free Nitrile Gloves are what you see is what you get; medical grade, powder-free, textured and food safe, perfect for low risk tasks within the food industry. If you want to prepare food for customers, reduce contamination while making food, handle food and more, these simple gloves will do the trick. Their micro-texture will offer an excellent level of grip. while the simple, flexible nature ensures ease of use during fast paced tasks.
Key Points: Simple, easy to use food use gloves; reduces contamination during use; micro textured for offering further grip.
Shop Now
Choose the Right Food Safe Gloves
We hope that this guide has given you a better idea of the kind of food safe nitrile gloves that might be ideal for you. If you want to view our full range, please check out our Nitrile Food Use Gloves category.
Have any questions, or anything to add? Tell us in the comments below, or find us on Facebook and Twitter!