Can Wearing Nitrile Gloves Over Cut Proof Gloves Help with Hygiene?
Monday, 2 July 2018 | Admin
If your job involves dealing with sharp objects in messy environments where it's virtually impossible to keep your cut-resistant gloves clean to maintain hygiene at an acceptable level, you've probably noticed that the perfect glove that would solve both your problems doesn't exist. We've found the perfect solution for how to protect your hands from even the most dangerous of mechanical injuries, while keeping your work environment hygienic at all times. Read on to find out how wearing nitrile gloves over cut-resistant gloves can drastically improve your work quality and make your life easier.
Why Should I Wear Nitrile Gloves over Cut Proof Gloves?
While at first the idea of wearing one type of gloves over another might sound a bit far-fetched, changing one simple thing in the way you use gloves can make a world of difference when it comes to the way you do your job. While cut-resistant gloves are great at protecting your hands from the deepest cuts, and often against scratches, grazes and abrasions as well, they tend to be unsuitable for food handling, or any type of work that involves high levels of hygiene. By protecting them with an additional layer of highly dexterous nitrile gloves, you can enjoy the best of both worlds, with hygiene on top and protection underneath.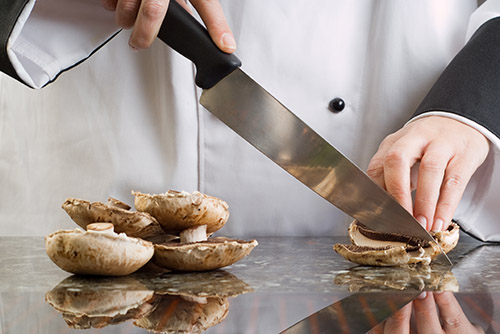 Not wearing gloves when dealing with sharp objects can quickly lead to an injury
Benefits of Using Nitrile Gloves
Nitrile is quickly becoming the material of choice for making disposable gloves. Nitrile gloves come with a range of benefits that make them superior even to the widely used latex gloves, as they are:
Three to five times more puncture resistant than their latex counterparts
Exceptionally comfortable, as they conform closely to the hand
Widely used in hospitals, labs, clean rooms and dental offices
Known to be more suitable for people with latex allergies
Suitable for safe food handling
This makes them the perfect choice for all tasks that call for outstanding cut protection in environments where hygiene should come first, such as in hospitals, cleaning services or the food industry. When you combine them with cut-resistant gloves, your hands are sure to remain both clean and protected from mechanical injuries.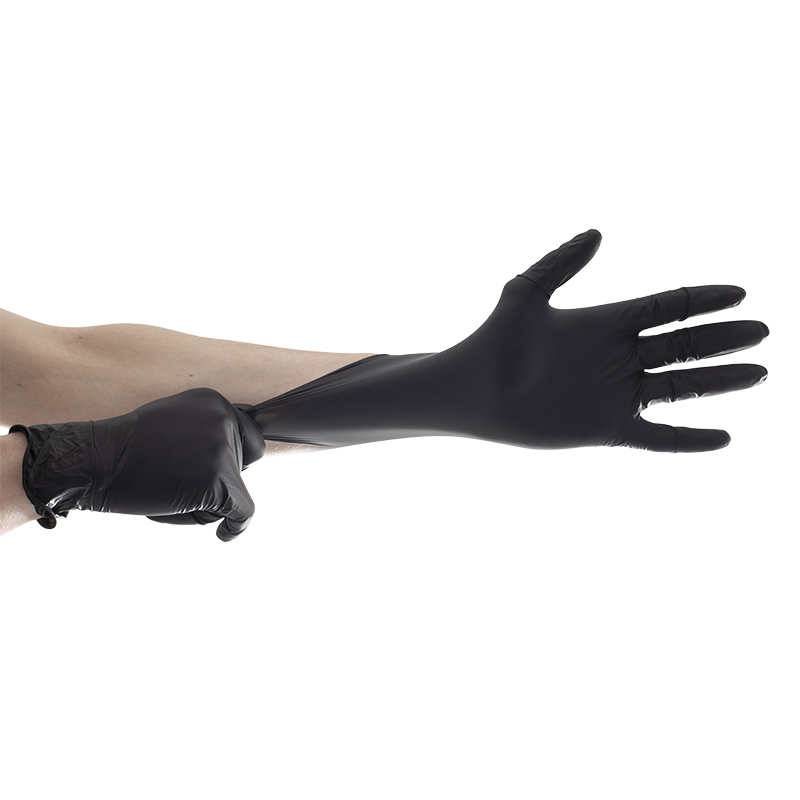 Aurelia Bold Medical Grade Nitrile Gloves
Our Top Pick: Most nitrile gloves can easily be donned over cut-resistant gloves , but we especially recommend the Aurelia Bold Medical Grade Nitrile Gloves. These simple yet efficient disposable gloves, supplied in a box of 100 gloves, offer comfort and flexibility, with beaded cuffs to prevent liquid from entering the glove, and a micro-textured finish to ensure a secure grip at all times. Due to their flexible, ambidextrous design, they can easily be worn over cut-proof gloves.
What Are Cut Resistant Gloves?
Cuts and slashes are some of the most common hand injuries, and at the same time they are often the most easily preventable work-related injuries. Whether you work in a kitchen or in a garage, high-quality cut resistant gloves are hard to go without.
Cut-resistant gloves come in various levels of protection, ranging from those that keep your hands safe from minor grazes, to those that will protect you even from heavy machinery and the sharpest of knives. They are made from different materials, from leather to Kevlar fibre, but what most of them have in common is that they are not suitable for food handling, lab work or similar applications that demand the highest levels of hygiene.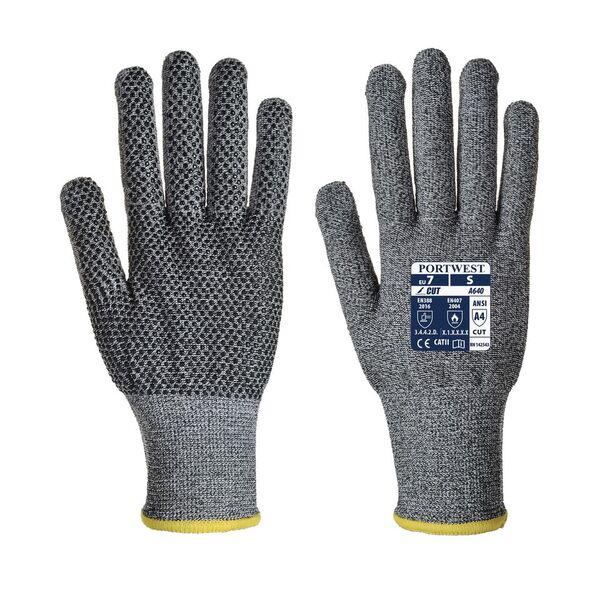 Portwest Sabre Cut-Resistant PVC Dot Palm Gloves A640
Our Top Pick: Cut-resistant gloves don't have a typical representative, but if we do have to pick one pair of gloves, the Portwest Sabre Cut-Resistant PVC Dot Palm Gloves A640 are the ones that spring to our mind almost instantly. These heavy-duty work gloves offer not only level 5 cut resistance, but protection against contact heat of up to 100°C as well.
Choose the Best of Both Worlds
Wearing nitrile gloves over your best pair of cut-resistant gloves combines the best of both worlds. Cut proof gloves keep your hands protected from most mechanical injuries, while disposable nitrile gloves ensure maximum levels of hygiene, making them suitable for virtually any environment, including hospitals, labs and kitchens. Their practical, disposable design ensures you can use your cut-resistant gloves in different environments without having to worry about cleaning them, as all you have to do is use a new pair of single-use nitrile gloves as an affordable and practical protective layer.
Have any questions, or anything to add? Tell us in the comments below, or find us on Facebook and Twitter!