Cardinal Health Gloves: Essential to Care
Wednesday, 14 August 2019
As experts across the medical, it is not a surprise that Cardinal Health Gloves are so high quality – perfect for medical settings. In this brand focus blog we let you know a little more about the company and their high-quality surgical gloves.

A Medical Powerhouse
Based in Dublin, Ohio in the USA, Cardinal Health provide pharmaceutical and non-pharmaceutical medical products to a wide range of health settings including hospitals, pharmacies, clinical laboratories and physician's offices. In all these areas they produce specialised equipment for the very best results, and gloves are no exception.
Essential To Care
Both in America and globally, Cardinal Health are a dominant force and a major part of the sector. Their products are used to treat over 3 million patients each year, being used by more than 10,000 speciality physicians. In the US, nearly 85% of hospitals use products manufactured by Cardinal Health.
Tactile Surgical Gloves
Cardinal Health's glove selection focuses on a variety of surgical applications, with disposable gloves which are ideal for a spectrum of needs and preferences. Below are some highlights of what they have on offer:
Our Top Selection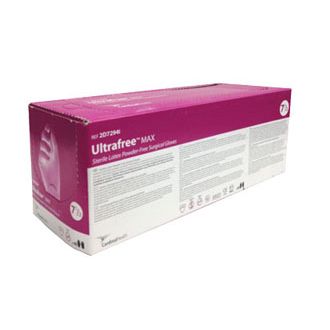 Cardinal Health Ultrafree Max Sterile Latex Powder Free Surgical Gloves
Our most popular gloves from Cardinal Health, the Cardinal Health Ultrafree Max Sterile Latex Powder Free Surgical Gloves feature a thicker design to improve protection and a lightly textured grip to improve hold without significantly decreasing sensitivity. Their natural rubber latex body is robust and highly flexible, but can have adverse reactions for some people's skin.
Key Features: latex; lightly textured grip; thicker design; powder free; box of 40 pairs
Cardinal Health produce more brilliant medical gloves. Take a look at the Cardinal Health Gloves category for our full collection.
If you have any questions – or anything to else to add – tell us in the comments below, or find us on Facebook and Twitter!