Our Best Disposable Nitrile Gloves 2023
Disposable Nitrile Gloves are an increasingly popular type of disposable gloves that have threatened latex's place at the top over the last few years. It isn't hard to see why, as the synthetic material offers superior strength, chemical resistance, oil resistance and comes with the same sensitivity and flexibility that you expect from your usual disposable gloves.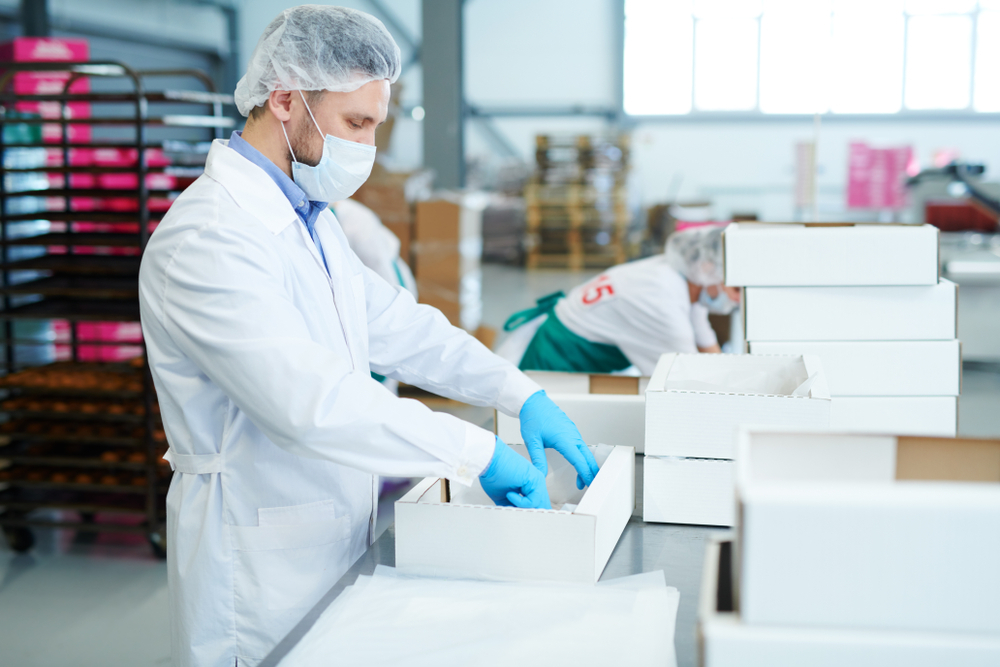 Nitrile gloves offer grip, strength and skin-tight protection
If you are looking to purchase your first pair of nitrile gloves, then you're in the right place. This guide gives you all the information that you need on disposable gloves, before providing a top five list that will hopefully let you choose the best gloves for you. Taking into account applications, brands and more, this guide provides the best that nitrile gloves have to offer.
Why Buy Nitrile Gloves?
Nitrile gloves are a newer option for disposable gloves. It is the only material that can compete and beat latex gloves when it comes to strength, protection and versatility, with the synthetic material being healthier for the skin and resistant to chemicals, oils and more. To explore nitrile as an option further, don't hesitate to check out our Glove Material Guide, where you get a quick briefing on all of the different types of disposable glove materials.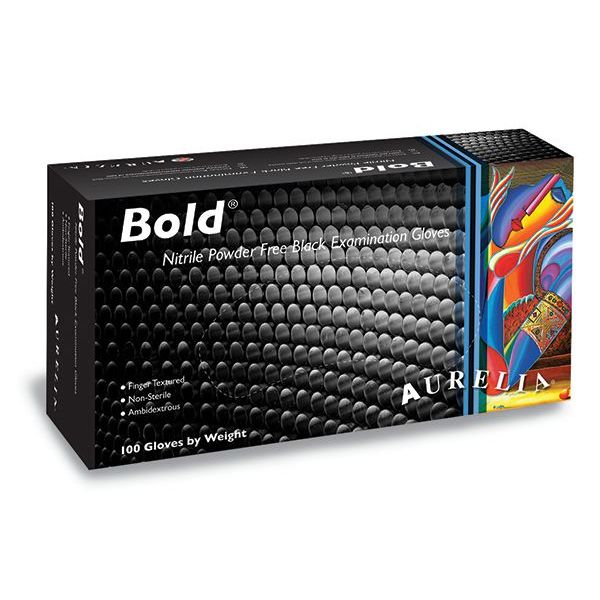 Aurelia Bold Medical Grade Black Nitrile Gloves
Our most popular medical gloves are the Aurelia Bold Medical Grade Nitrile Gloves, which use an extra thick form of nitrile to offer excellent protection against contamination, chemicals, liquids and food. The gloves use a micro-texture to improve grip on the hands, while their skin-friendly, powder-free design improves skin health. Finally, these gloves are medically certified, making them a highly popular set of gloves for the health industries, perfect for protecting you against contamination and protecting your patients too.
Key Points: Medically certified for healthcare use; super strong for extended use; high levels of grip; offer oil, chemical and food protection.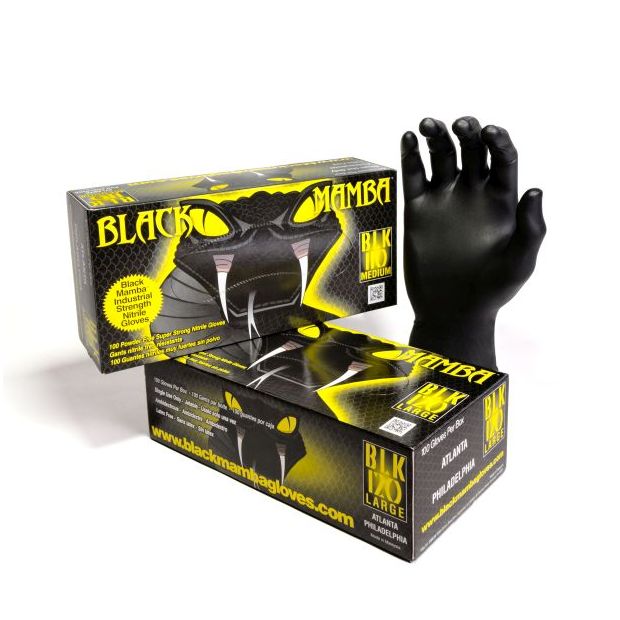 Black Mamba Disposable Nitrile Gloves BX-BMG
The Black Mamba Disposable Nitrile Gloves BX-BMG are among the grippiest and strongest disposable gloves available, with two-ply fusion strength providing an exceptional level of durability that is perfect for handling tasks. The gloves come in black with impressive oil resistance, making them well suited to dirty industries such as mechanics, engineering and maintenance. The gloves are therefore superbly versatile, with the excellent level of dexterity making them well suited to tricky tasks too.
Key Points: Exceptional strength and high level of grip; well suited to mechanics and engineering; offers strong chemical resistance; easy to don.
Shop Now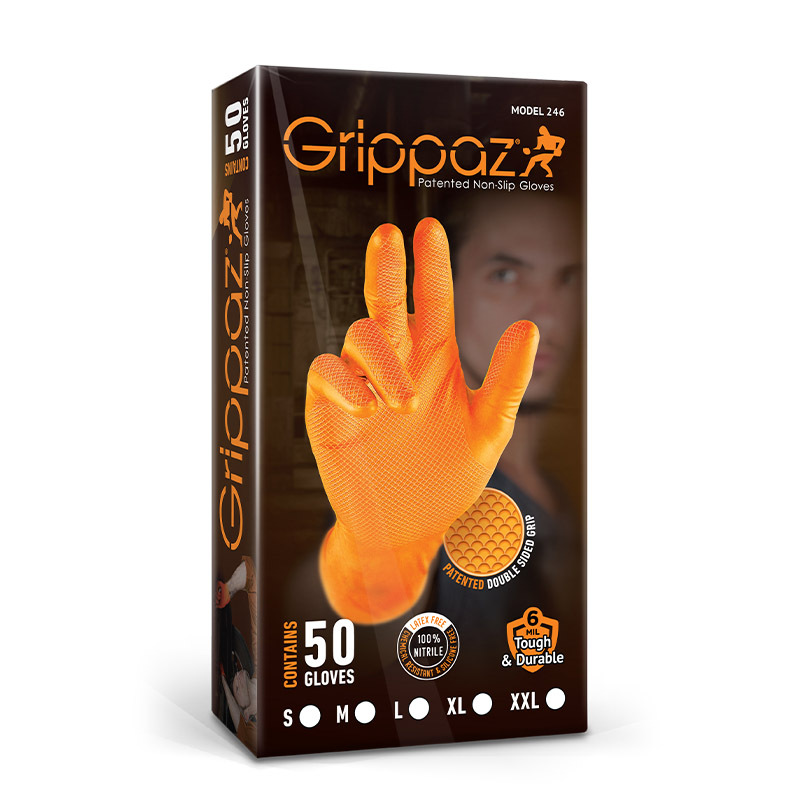 Grippaz Orange Semi-Disposable Nitrile Grip Gloves
The third gloves on our list are the grippiest, the Grippaz Orange Semi-Disposable Nitrile Grip Gloves which use an embossed fishscale grip pattern to provide a level of unprecedented grip. The gloves are so grippy that they are well suited for working with hazards such as brake fluid and chemicals, where the super strong nitrile both protects the hands and makes your job easier with the high level of grip. The impressive grip is supported by strength, something that allows these disposable gloves to often be used more than once.
Key Points: Fishscale grip pattern for exceptional grip; superb resistance to chemicals and oil; high strength for repeated use.
Shop Now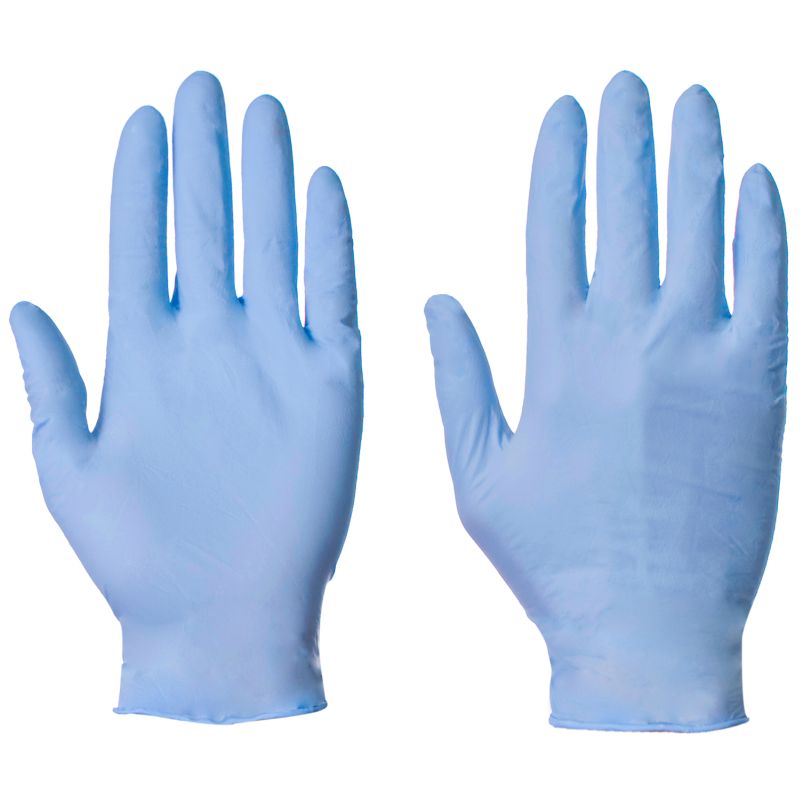 Supertouch Powder-Free Nitrile Gloves
The Supertouch Powder-Free Nitrile Gloves are what-you-see-is-what-you-get, coming at a great price for use in care homes, hospitals, food factories and more. They are medically certified, are supplied in a range of colours and come with an AQL of 1.5, meaning that you can work with patients with the risk of contamination minimised. Furthermore, as they are certified for food use, they perform well in industries such as food processing, food handling and food manufacturing.
Key Points: Certified for food and medical use; an affordable disposable gloves option; highly versatile and certified to prevent contamination.
Shop Now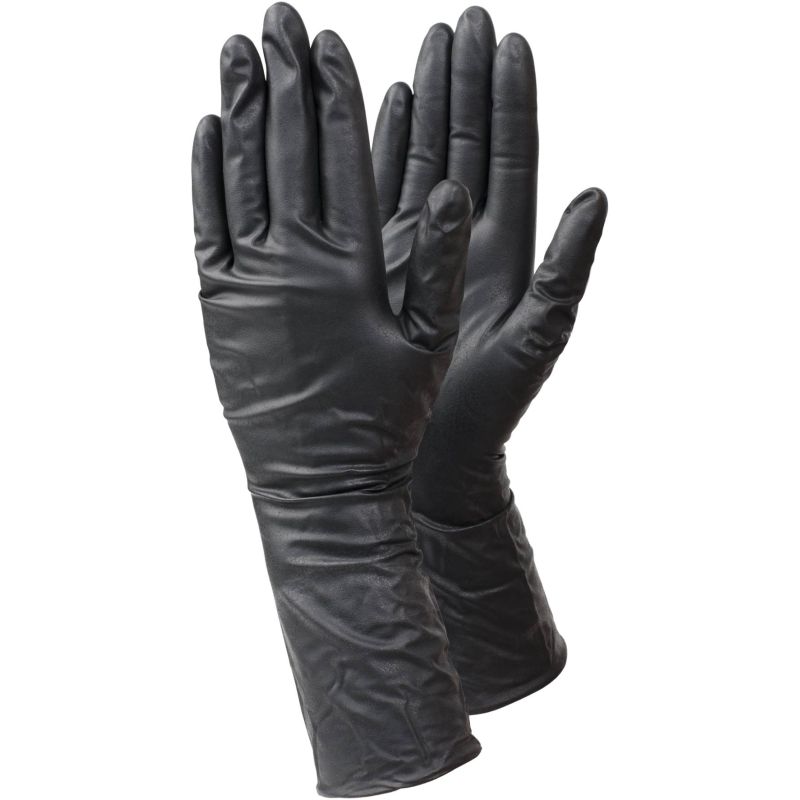 Ejendals Tegera 849 Disposable Nitrile Gloves
Our final gloves on the list are the Ejendals Tegera 849 Disposable Nitrile Gloves, which are designed for more heavy duty environments with a chemical or oil risk. The extra long design provides wrist and lower arm protection, meaning that these are recommended for working with a lot of liquids or corrosive materials. They are certified for chemical and food use too, making them a highly popular selection within the food, chemical and industrial industries.
Key Points: Suitable for oily and chemical environments, offer extra arm protection; recommended for working with corrosive materials.
Shop Now
Protect Your Hands with Nitrile Gloves
Hopefully this guide has given you a bit more information on the kind of nitrile gloves that you want to buy. If you are still looking for the perfect gloves for you, take a look at our Nitrile Gloves category for our full range.
Have any questions, or anything to add? Tell us in the comments below, or find us on Facebook and Twitter!