Our Top Portwest Gloves 2023
2 January 2023
Founded in 1904, Portwest have been designing, manufacturing and supplying hardworking industries with personal protective equipment for over one hundred years. During this time, they've learnt a fair bit above glove making too.
Take a look at Our Top Portwest Gloves 2023 to find out which gloves suit your application and environment best.
Quick Links
If you know what you're looking for, click one of the links below to jump right in. Alternatively, keep scrolling to see which gloves made the cut.
The Best All-Round Portwest Gloves
Winner: Portwest A120 Black Polyurethane Work Gloves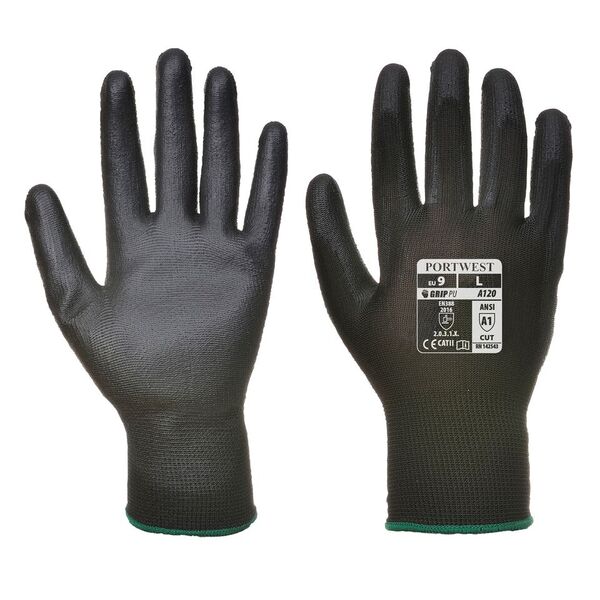 We sell thousands of pairs of Portwest A120 Black PU Palm Gloves every year, and for very good reason. Developed with general handling applications in mind, Portwest A120 Safety Gloves are perfect for cargo handling, shipping and clearance.
They're ergonomically shaped to match the natural contours of your hand, which maximises grip and prevents costly slips and drops. You'll also find that your hands don't feel as tired as they do when wearing other gloves. This is because they're sculpted to reduce hand-fatigue, allowing you to work more efficiently, for longer.
What We Love:
Great value for money
Our best selling work glove for manual handling applications
Polyurethane coating is grippy and highly tactile
What the Experts Say:
"These gloves are the absolute best handling gloves in terms of value for money. They're perfect for large companies looking to outfit their workforce, or for individuals and small businesses looking to save money without compromising on quality" - Hank, PPE and Safety Expert
What Our Customers Say:
"They proved to be much more abrasion-resistent than their paper-light weight and appearance would suggest. They offer perfect dexterity and feel, coupled with good levels of fit and protection. I would recommend these" - Martin ★★★★★
The Best Oil-Resistant Portwest Gloves
WINNER: Portwest A400 Oil-Resistant PVC Gloves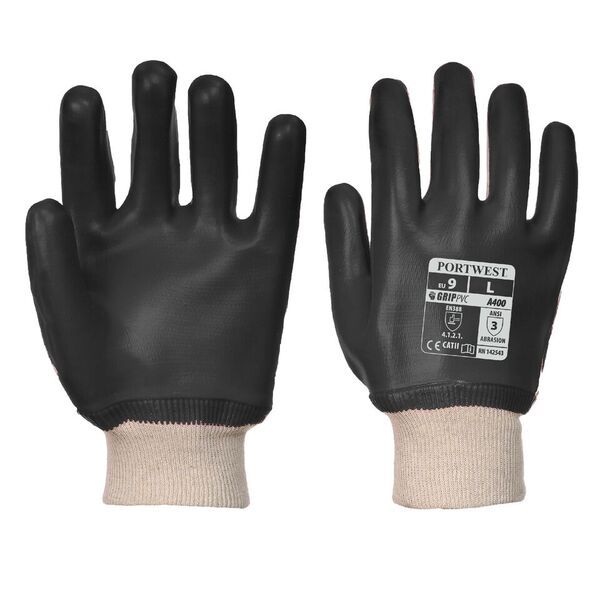 If you work with, in and amongst oil, grease, grime and dirt, you'll already know the value of a great pair of safety gloves. Portwest A400 Oil-Resistant PVC Black Gloves go above and beyond to form an impenetrable barrier in the face of these nasty substrates.
Our customers favourite for nasty mechanical tasks and automotive assembly, you won't find a better option at this price. They're lined with thick PVC, and boast the maximum level 4 EN 388 rating when it comes to abrasion-resistance and grip in workshops, warehouses and on building sites.
What We Love:
Rough and ready PVC coating is thick, tough and durable
Knitted wrist-cuff helps keep dirt and debris out of the glove
Unrivalled affordability for builders and assembly professionals
What the Experts Say:
"This fully dipped PVC working glove comes with a knitted wrist and cotton interlock lining. It has a smooth finish with the highest abrasion resistance rating available. The fully dipped glove allows for advanced water and oil protection" - Portwest Product Expert
What Our Customers Say:
"I've used these for years building dry stone walls. They're tough, waterproof and keep your hands warm even when it's sub zero" - John ★★★★★
The Best Cut-Resistant Portwest Gloves
Winner: Portwest A722 Anti Impact Cut Resistant Gloves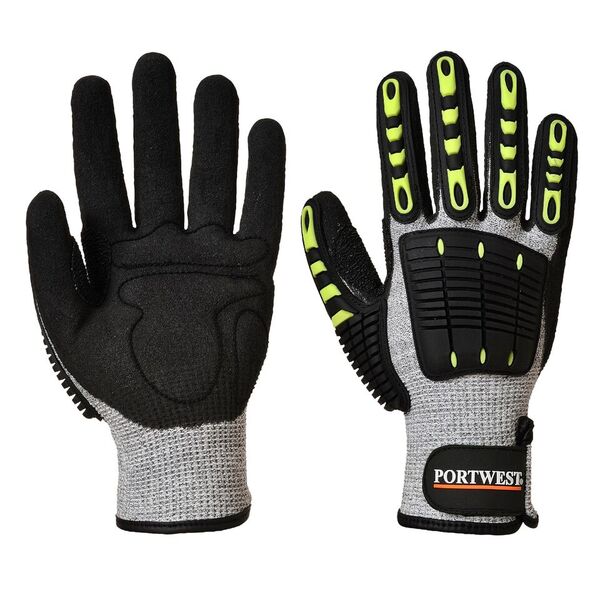 Portwest A722 Anti Impact Cut Resistant Gloves are for the serious workers. Boasting Level E cut-resistance and a sought after impact-resistance rating under EN 388, Portwest A722 Cut-Resistant Gloves are all about guarding against serious injury on fast-paced building, construction and demolition sites.
Whether it's blades, knives, serrated edges or sharp metal, you're safe. Fitted with a TPR reinforced thumb crotch that offers extra protection against the most dangerous hazards out there, you're free to get on with the task at hand.
What We Love:
Brilliant level E cut-resistance rating is second highest available
Flexible PVC pods guard against falling debris and sudden impact
The back of the hand is permanently guarded by thermoplastic rubber
What the Experts Say:
"Incredible protection for demolition and construction professionals. Thanks to a thermoplastic and PVC reinforced backing, they're our favourite gloves for use on hazardous building sites" - Hank, PPE and Safety Expert
What Our Customers Say:
"New to the trade, I want to keep my hands soft and safe. These gloves fit perfectly and have been put through their paces and are both Impact and cut resistant" - Rachel ★★★★★
The Best Heat and Cut-Resistant Portwest Safety Gloves
WINNER: Portwest A625 Hi-Vis Cut-Resistant Orange and Black Gloves
Think cut-resistant work gloves mean big, baggy gauntlets that weight your hands down? Think again. Portwest A625 Hi-Vis Cut-Resistant Orange and Black Gloves are dexterous, lightweight and incredibly grippy.
Our favourite for mechanics and automotive professionals, A625 Work Safety Gloves boast excellent grip and are fantastic if you frequently suffer from hand fatigue. If that wasn't enough, they're made from a tough HPPE and glass-fibre liner that provides exceptional cut resistance in the face of sharps, metal, blades and glass.
What We Love:
Safely handle material with a temperature not exceeding 100°C
Brilliant level D cut-resistance rating
Highly protective despite lightweight and ergonomic design
What the Experts Say:
"Despite their lightweight design, A625 Cut-Resistant Gloves are an excellent choice for mechanics and automotive workers. The combination of dexterity and heat-resistance is a must if you're swapping pipes and parts out under the hood" - Hank, PPE and Safety Expert
The Best Portwest Gloves for Heat-Resistance
Winner: Portwest A500 Welders Leather Gauntlets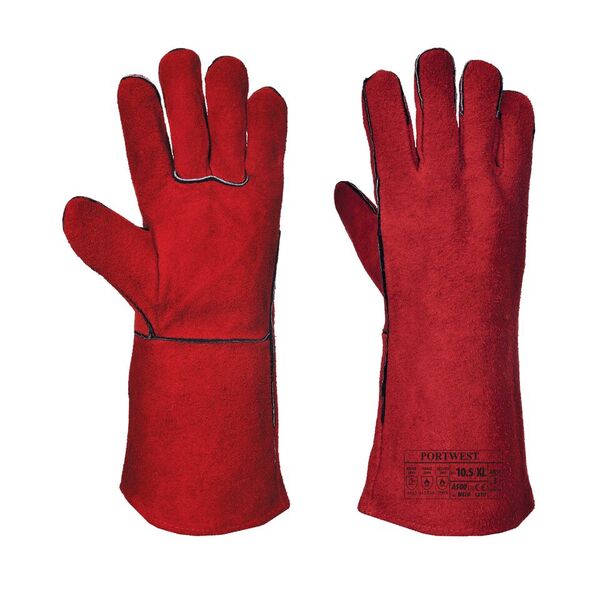 Like pretty much everything, there are levels to how much heat a safety glove can handle. If your profession and environment mean you need to step up the heat-resistance a notch, look no further.
Portwest A500 Welders Leather Gauntlets are our number one for heat-resistance by a country mile. Packed with intuitive design features that guard the hand against burning, flame, molten splash, convective heat and temperatures of up to 250°C, Portwest A500 Welders Gauntlets are the only logical choice if you work in blacksmithing, workshops or foundry.
What We Love:
Extended cuff protects more of the wrist and forearm
250°C of heat-resistance when handling volatile material
Shield your hands against flame, fire, ignition and molten splash
What Our Customers Say:
"Excellent value for money. I was sceptical about ordering these gloves to replace the gloves I use for my log burning stove. I was really pleased when I received them, they are excellent quality and will do the job perfectly. Definitely recommend!" - Alyson ★★★★★
"Fantastic product. Do the job for so little money" - Monika ★★★★★
The Best Portwest Gloves for Building and Construction
WINNER: Portwest A300 Nitrile Knitwrist Handling Gloves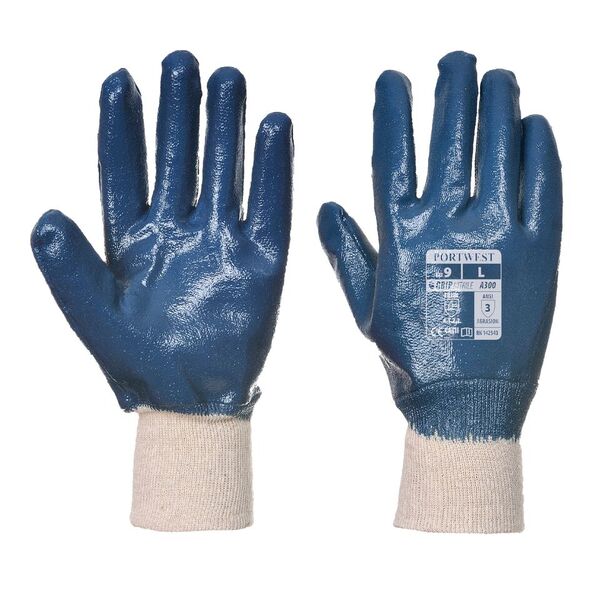 Building and construction demand a lot out of your hands and no two sites are the same. One day you might be lugging plasterboard up a set of stairs and the next you've got a sledgehammer in your hand knocking down stud walls.
Got a glove that works almost everywhere? You bet we do. Portwest A300 Nitrile Knitwrist Handling Gloves are great in the face of grease, grime, abrasion, scuffs and scratches. Waterproof, oil-resistant and incredibly robust, their thick foundation fabric is great for general purpose handling in some of the most diverse on-site environments.
What We Love:
Versatility makes them our favourite for building and construction
Thick nitrile foundation makes handling timber, stone and tools a breeze
Waterproof outer fabric is perfect for waterlogged sites in winter
What Our Customers Say:
"I actually use these gloves and that is for dry stone walling. Waterproof, grippy and warm and a very good price." - Paul ★★★★★
"As I work at sea, I find these gloves just right as they are water proof, hard wearing and washable. Good value. When these run out I will be ordering more." - Colin ★★★★★
The Best Water-Resistant Portwest Gloves
WINNER: Portwest AP80 Liquid Pro Latex Foam Waterproof Gloves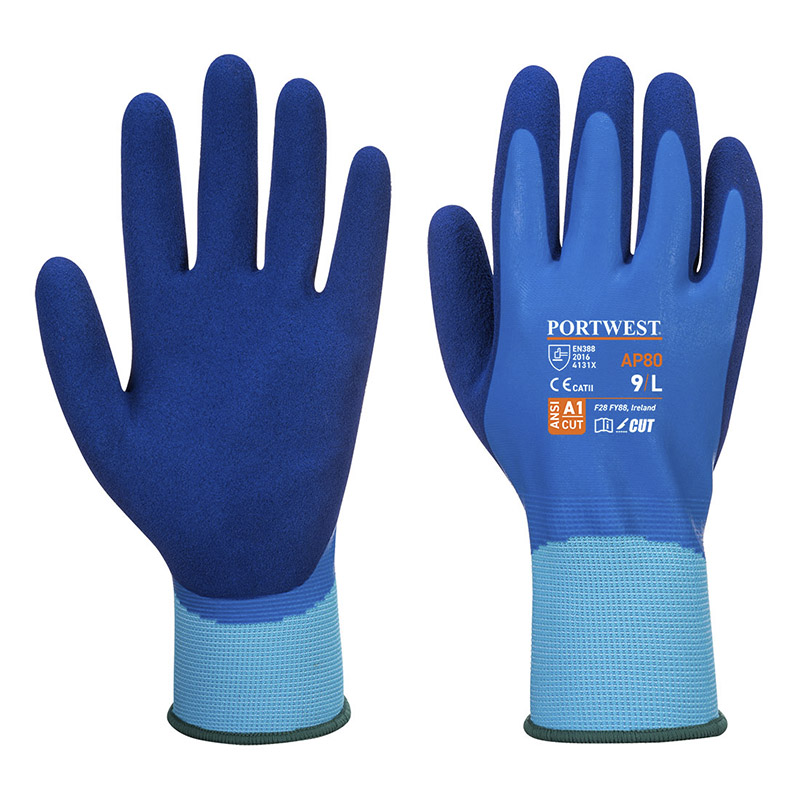 Portwest AP80 Liquid Pro Latex Foam Waterproof Gloves are a must have if you're working outdoors in the wet. Whether it's April showers or bailing a site out in December, Portwest have got you covered.
Their lightweight construction and latex outer coating maximises dexterity and natural touch. This keeps your hands warm and dry, and allows all the natural dexterity and touch in your fingertips to shine through. If that wasn't enough, AP80 Gloves double up on their latex coating to maximise grip in the wettest conditions imaginable.
What We Love:
Highly water-resistant coating is great for working out in the elements
Ultra-thin design is great for manual handling and dexterity
Keep your hands dry as a bone this winter
What Our Customers Say:
"After trialing many different gloves that give waterproof protection and work-ability, myself and the workforce found these gloves to be the best in both use and cost. Great Product...." - Sat ★★★★★
"I use these gloves everyday for heavy use, digging, lifting and cutting. I work outside in all weathers and they are hard wearing. They also save a hell of a lot of hand scrubbing at the end of the day" - Martin ★★★★★
"Brilliant gloves. They last for ages. Water-resistant also. 10 out of 10" - Bryan ★★★★★
Other Useful Pages
If you still haven't found what you're looking for, take a look at some of our other pages below:
Choosing my Portwest Gloves
Portwest have a wide selection available, and it can be difficult finding the gloves that are best suited to you. Hopefully, this blog will give you a bit of an idea about the kind of gloves that would suit you. For more ideas, visit our fully stocked Portwest Gloves product page.
Have any questions, or anything to add? Tell us in the comments below, or find us on Facebook and Twitter!